It is very well said that Health is Wealth. Keeping that in mind here I'm sharing here a very healthy and tasty recipe with lots of fruits & vegetables. As the name clears, this recipe has fruits, vegetables and peanuts. We always want to feed healthy food to ours kids and family. So this Thai Fruit & Vegetable Salad is going to be a good choice as it is healthy as well as tasty. It's easy to prepare and gives loads of health benefits. A bowl full of Fruit & Vegetable Salad can give you good quantity of vitamins and minerals of your daily requirements. Let's start the recipe…
Ingredients: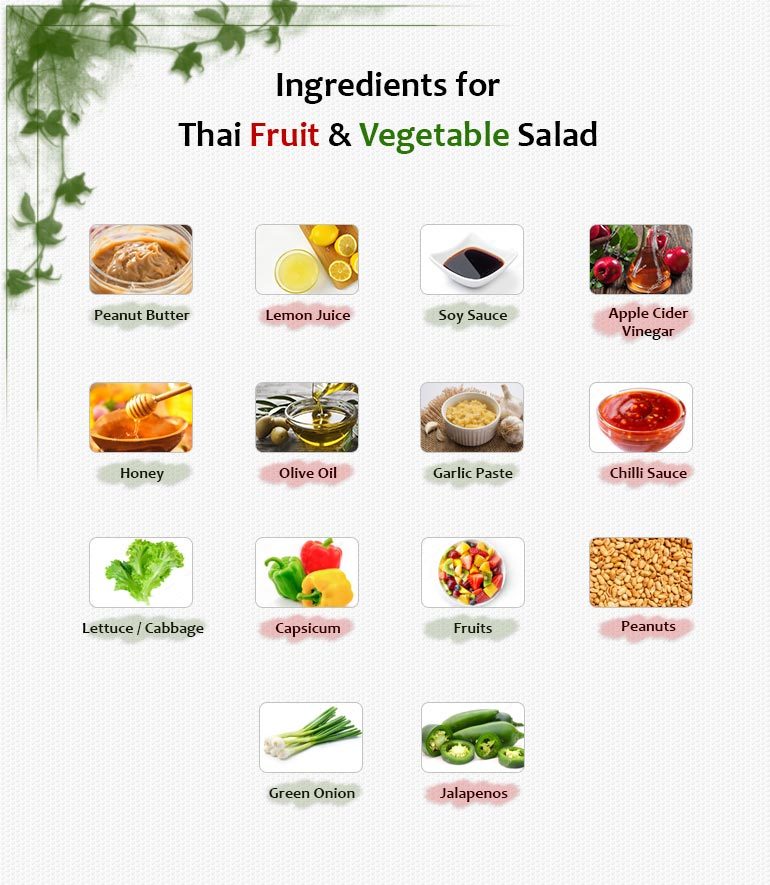 Peanut Butter: 80gms
Lemon Juice: 25ml
Soy Sauce: 1 teaspoon
Apple cider vinegar: 1 tablespoon
Honey: 1 tablespoon
Extra Virgin Olive Oil: 1 tablespoon
Crushed Garlic/ Garlic Paste: 1 teaspoon
Chilli Sauce: 1 teaspoon
Lettuce (chopped) : 200gms
Red/Yellow Capsicum (chopped): 300gm
Any Seasonal Fruit (small peices): 300gm
Peanuts: 80gm
Jalapenos: 30gm
Green Onion: 10gm
Salt to taste
Black Pepper: just to taste
Peanuts: Handful of roasted peanuts
How to prepare Thai Fruit & Vegetable Salad with Peanut toppings
First we are going to prepare a dressing for this salad. Take one bowl and mix Peanut Butter, Lemon Juice, Soya Sauce, Apple cider vinegar, Honey, Extra Virgin Olive Oil, Crushed Garlic/ Garlic Paste, black pepper, salt to taste and Chilli Sauce.
In another bowl mix Lettuce, Red Capsicum, fruits, Peanuts, Jalapenos and Green Onion.
Now add the prepared dressing in this mixture.
Mix it well.
Plate your salad and garnish it with some peanuts on top of it.
Now your Thai Fruit & Vegetable Salad with Peanut toppings is ready to serve.
Note: You can use any nut instead of peanuts and any vegetable or fruits. It's totally up to you and your taste.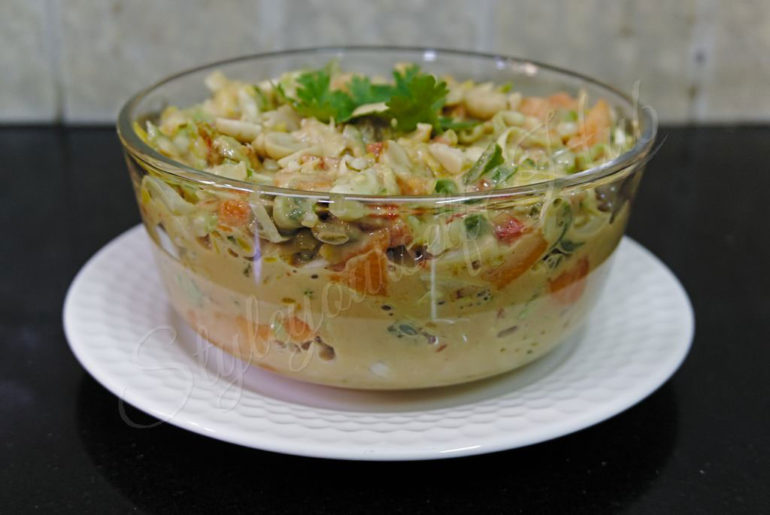 Eating salad can give you lots of health benefits. Enjoy this recipe and let me know your thought about it….
Happy Eating and keep Innovating….