Hi Everyone!!
Veg Cabbage Manchurian is one of the popular dishes from Indo Chinese Cuisine. Everybody loves eating Manchurian especially Kids. This is a dish with gravy so you can serve it with fried rice, noodles, or as a starter. The base ingredient in this recipe is cabbage.
Without further ado let's start the recipe…
Ingredients to make a Manchurian Balls
Cabbage / Patta Gobhi: 2 Cups finely chopped
Ginger Garlic Paste: 1 tsp
Garam Masala: 1/2 tsp
Salt: 1 tsp
Cornflour: 3 to 4 tbsp
Maida / All Purpose Flour: 3 to 4 tbsp
Red Chili Powder: 1 tsp
Oil for Deep Fry
Ingredients to make a Manchurian Sauce
Garlic Chopped – 1 tbsp
Chopped Onion – 1 tbsp
Red / Yellow / Green Capsicum (optional): Cut in Julienne
Green Chili – 1 tbsp
Spring Onion Greens for garnishing
Red Chili Sauce – 2 tbsp
Soy Sauce – 1 tsp
Ketchup – 1 tbsp
Black Pepper – 1/2 tsp
Water – 1/2 cup
Cornflour – 1 tsp
Salt to taste
How to prepare Cabbage Manchurian Balls
To prepare a dough for Cabbage Manchurian Balls first we have to shred the cabbage. For shredding you can use a grater or if you want you can use a mixer too but if you go for mixer remember not to mash it. Keep it a little coarse.
Transfer all the grated cabbage in a bowl. Cabbage usually leaves water when we grate it in mixer. So feel free to squeeze out some extra water by pressing with your hands. Because excess water can cause an issue while making balls.
Now add the ginger-garlic paste, garam masala, red chili powder, and salt.
Mix it well.
After mixing the cabbage add cornflour and maida. Mix it well and make a soft dough. If needed you can add little more maida but don't add too much as it will make the balls hard. Instead you can add some bread crumbs.
Now make a small size balls with the dough.
Heat the oil and fry your balls till golden brown.
How to prepare Cabbage Manchurian Sauce
To prepare a sauce for Cabbage Manchurian Balls first heat oil in a kadhai.
After heating add chopped garlic and saute it, don't make it brown.
Now add onions and saute it too. After saute it for 2 – 3 minutes add capsicum and green chili.
Add black pepper, a little salt, tomato ketchup, soya sauce, and chili sauce. Mix it on high flame and add 1/2 cup of water. Now make the flame low.
Mix 2-3 spoons of cornflour with water and add it in a pan to thicken the sauce. Don't cook too much as it will thicken the sauce.
Now add the balls in the sauce. Mix it and switch off the flame. Cover it for 1 or 2 minutes.
Your delicious Manchurian is ready. Serve it hot and garnish it with a handful of chopped spring onions.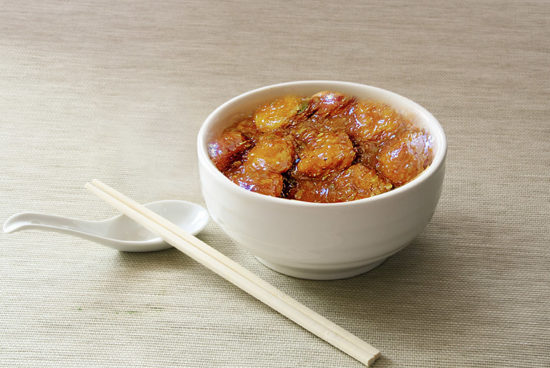 Enjoy this recipe and let me know your thought about it. If you want me to share step by step pictures then please let me know I'll post them too. Also, share your innovations I'll love to see them…
Happy Eating and keep Innovating….