Hi Everyone!!
Crispy Cheese Potato Sticks is one of the favorite recipe of my son and I think every kid loves it too. Both the main ingredients used in this recipe are mouth watering for kids. These sticks are easy to make with very less ingredients. It can be a nice substitute for McCain Potato Cheese Shotz.
Without further ado let's start making Crispy Cheese Potato Sticks at home…
Ingredients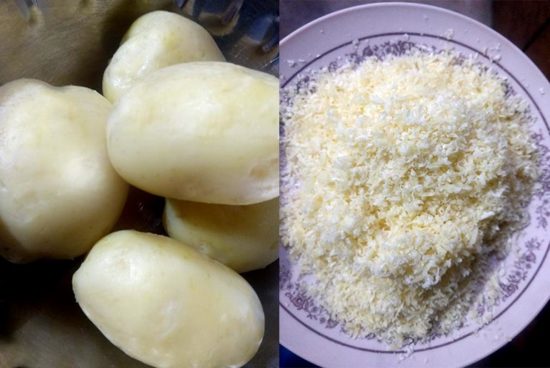 Potatoes: 500 gm
Cheddar Cheese: 80 gm
Cornflour: 7 tbsp
Salt: 1 tsp
Oregano: 1 to 2 tbsp
Red Chili Powder or Chili Flakes: 1 tsp
Oil for Deep Fry
Time needed: 1 hour and 30 minutes.
How to make Crispy Cheese Potato Sticks at Home
Prepare potato and cheese

First wash the potatoes and boil them. After boiling, peel the potatoes and mash them nicely. You can mash these boiled potatoes with your hands or you can use potato masher. Now grate the cheddar cheese and mix it in mashed potatoes.

Make a dough

Add oregano, red chili flakes and salt in it. Mix it well. Now add cornflour in this mixture and make a dough.

Shape the dough into sticks

After preparing the dough we are going to shape it. Take a food grade plastic plastic sheet and apply little bit of oil on the sheet. Put the dough on half side of the sheet and cover the dough with other half sheet. Now roll the dough with rolling pin with light hands. Don't press it hardly. After rolling, open the sheet and cut the dough in the shape of sticks and keep it in the freezer for approx. 40 minutes. It will harden the sticks and will help while frying.

After that heat the oil and fry your sticks till golden brown.
You can freeze these sticks for later use. Whenever your kids demand of snacks you can quickly fry these sticks and make them happy. So enjoy this recipe and let me know your thought about it. Also, share your innovations I'll love to see them…
Happy Eating and keep Innovating….