Here I'm sharing my experience about one of my favorite creams "Blue Nectar Ayurvedic Brightening and Radiance Sandalwood Cream" by Blue Nectar Ayurveda. I've combination skin so every cream didn't suit me. As it's mentioned on the cream that it is suitable for all skin types so I thought why not give it a try. I've used this cream for more than two months before writing this review. It is a versatile cream that not only moisturizes the skin but also helps to add glow and makes the skin brighter. So without further ado let's get started…
About The Product:
Blue Nectar is an Ayurvedic brand that uses high herbal quotient ingredients. This cream is an Ayurveda-based formula created from rich Sandalwood along with 13 herbs like Aloe vera, Haldi, Mulethi, Methi, Manjistha, Ashwagandha, Sandalwood, etc. It hydrates the skin to repair and improve the skin's texture and complexion. This cream repairs dull damaged skin and makes it feel plump and nourished. The lightweight, non-greasy formula does not leave the skin oily.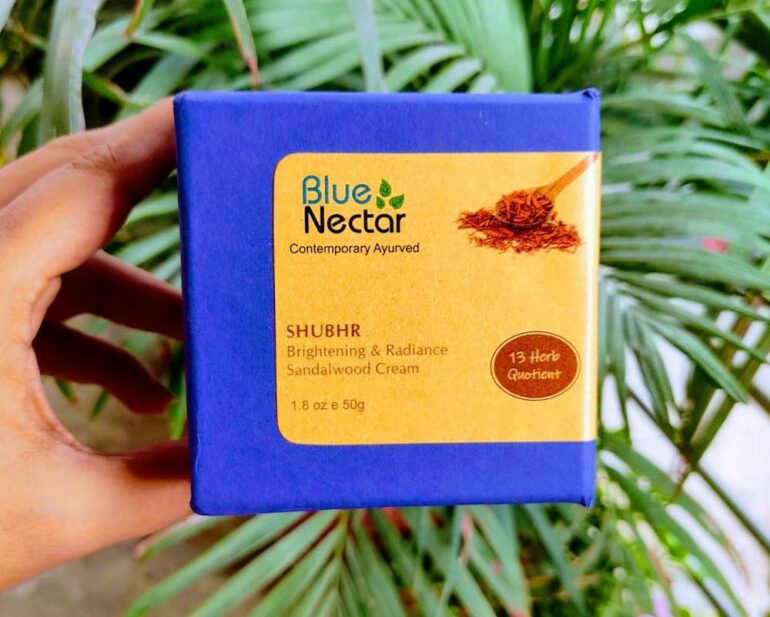 Helps to brighten the uneven skin tone and reduce dark circles
It helps in reducing pigmentation marks
It is an Ayurvedic cream and has no side effects
Safe to use for all skin types
Repairs dull and damaged skin
Make skin nourished and hydrated
Lightweight and non-greasy moisturizer
Enriched with the goodness of sandalwood, manjistha, mulethi, haldi and ashwagandha
Free of alcohol, sulfates, parabens, PEGs and mineral oil
Cruelty-free product
Eco-friendly packaging
Packaging:
Blue Nectar Ayurvedic Brightening And Radiance Sandalwood Cream comes in a very beautiful glass bottle with a golden cap. It's written "Blue Nectar" with its logo on it. I liked the look of it and it's very appealing. This glass bottle is secured in an outer blue color carton box which protects the glass bottle from damage while transporting. Overall, I would say it's nice packaging.
Fragrance, Texture and Consistency
Open the bottle and you can feel the fragrance of sandalwood. The fragrance stays for some time and then fades away. Although I love its fragrance some people have a sensitive nose so it might bother them. They have to bear it for 1 or 2 hours. The texture is creamy and smooth. It is lightweight and blends into the skin very easily. The consistency of this cream is perfect, neither too thick nor too runny. A little amount of this Blue Nectar Ayurvedic Brightening And Radiance Sandalwood Cream is enough for the face.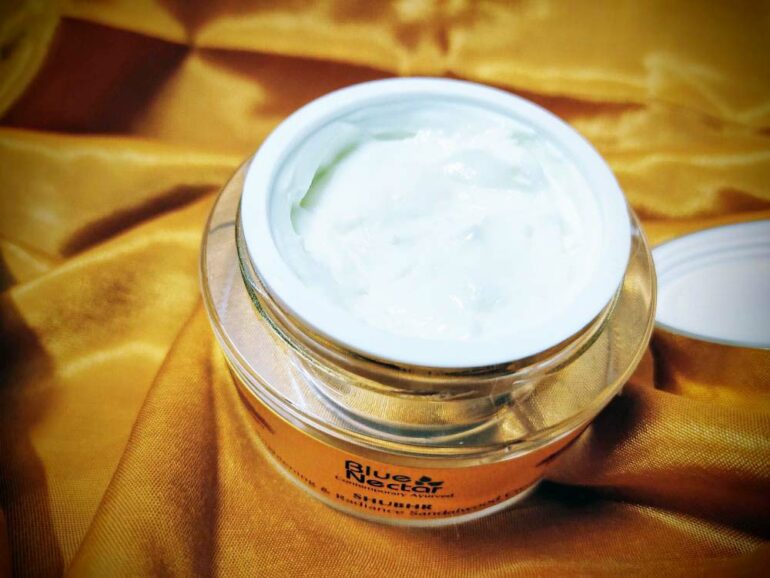 My Experience with Blue Nectar Sandalwood Cream:
I've used this cream before writing this review. It didn't cause any reaction on my skin and makes my skin soft, supple, fresh, and bright. I loved that this cream is non-greasy. The quality and the texture of this cream are also good. I use this cream at night and in the morning I can feel the softness on my skin. It helps to brighten the uneven skin, reduce dark circles and pigmentation marks. Although it is a little higher in price after seeing the results, I can say I've not wasted my money.
Do share your thoughts in the comment section below. If you like my work share it with others. Thanks For Reading…
Price:
MRP: Rs.1045 for a 50gm bottle but you can get it at discount from their website, Nykaa, Amazon.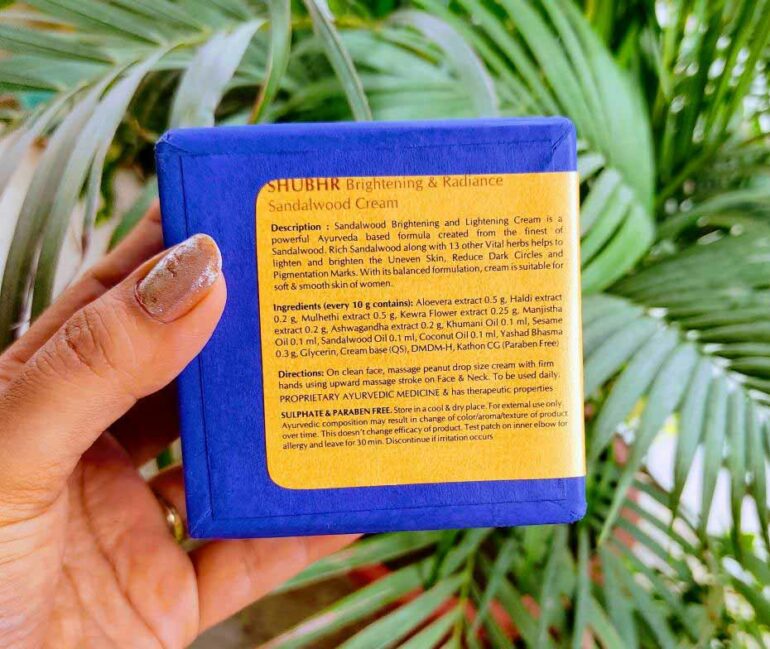 Ingredients: Aloe Vera extract, Haldi extract, Mulethi extract, Kewra Flower extract, Manjistha extract, Ashwagandha extract, Khumani Oil, Sesame Oil, Sandalwood Oil, Coconut Oil, Yashad Bhasma, Glycerin, Cream base, DMDM-H, Kathon CG (Paraben-Free)