Coconut oil is something that has multiple uses and benefits. Whether it is used as a hair oil or body oil or even for consumption, coconut oil is suitable for everybody. Today, the use of virgin coconut oil has been hailed as the singular most important discovery of natural oils of all time. However, not all coconut oils can be used as normal hair oil and be consumed at the same time. If you are looking for a good coconut oil for consumption and topical application, this is where True Derma's Extra Virgin Coconut Oil comes in.
About the Product:
The Virgin Coconut Oil has a delicate sweet coco-nutty aroma and is suitable for direct consumption and skin application. It is cold-pressed oil from fresh coconut meat of mature coconut kernels. The cold-pressing process does not usually use any chemicals, so it naturally keeps most of its nutritional components. It also contains a high content of nutrients. The Extra Virgin Coconut Oil contains bioactive compounds such as polyphenols and higher amounts of nutrients such as Vitamin E.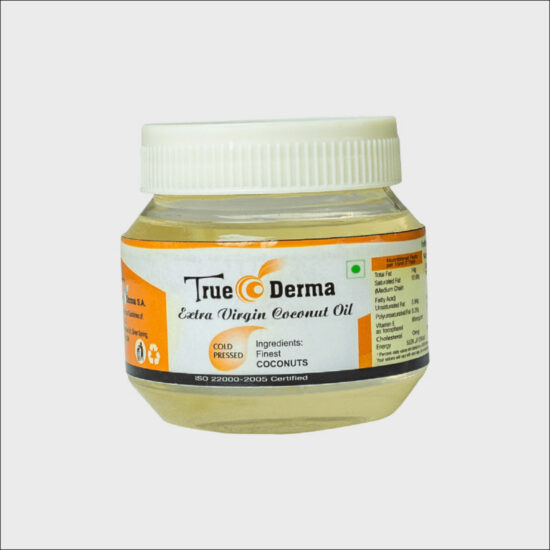 Uses / Benefits OfExtra Virgin Coconut Oil:
The Extra Virgin Coconut Oil has multiple uses. It helps in increasing good cholesterol, controlling blood sugar, reducing stress, making your hair shiny and skin healthy and many others. For skin care, it is used as a natural skin moisturizer, massage oil, treating acne and eczema, dry, itchy, cracked skin and heels, minor cuts and burns and rashes. For hair care, it is used for hair growth, as a natural conditioner, hair mask, treating dry hair and scalp, itchy scalp and dandruff. For new moms, the Extra Virgin Coconut Oil helps prevent stretch marks and breast care for nursing mothers.
The Extra Virgin Coconut Oil is also suitable for new born babies as chemical free massage oil, treating diaper rash, sweat rash and teething pain. For oral care it helps decrease oral bacteria, reduces dental plaque, prevents throat infections etc. The Extra Virgin Coconut Oil is an immunity booster and also helps in diabetes. True Derma's Extra Virgin Coconut Oil is super smooth and easy to apply on the skin. It makes skin soft without being sticky. The oil also does not leave behind the coconut smell after washing it from the clothes and body. The Extra Virgin Coconut Oil is also a healthy source of fat. It is an all in one product with many uses and benefits.