Aging is a natural process of becoming older which can't be denied. As the time passes, we get entangled between the struggle of our life, family, and career. We can't deny that the only thing ignored among this is our self. The lifestyle we have these days involve stress, pollution, and harmful factors. And because of these factors, even a girl in her 20s suffers from pigmentation, sagging, fine lines, skin darkening, etc, and needs anti aging products to protect her skin from damaging after-effects which can come later in life.
There are some creams, serums, masks etc available in the market that can help in reducing the effects of premature aging. So let's dive into the list of Best Anti Aging Cream in India…
Olay Total Effects 7 In One Anti-Aging Day Cream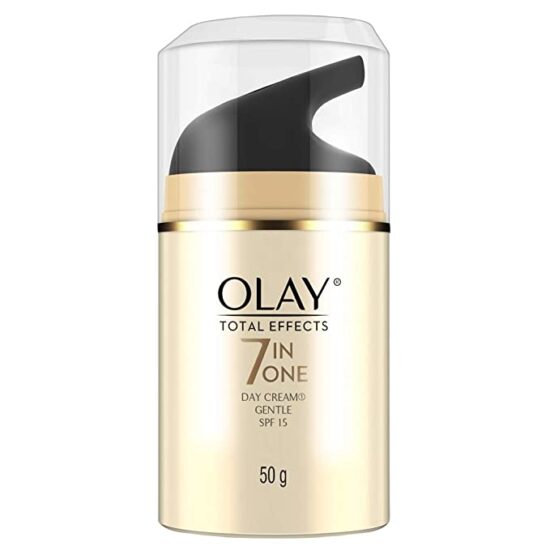 Olay Total Effects 7 In One Anti-Aging Day Cream is a product that helps fight the 7 signs of aging and suits the needs of your sensitive skin. Total Effects Gentle UV is enriched with SPF 15 that prevents your skin from the harmful aging effects of UVA and UVB rays.
It has been specially formulated to help fight 7 signs of aging.
Visibly reduces dark spots
Gives firm-looking skin
Radiant, glowing skin
Visibly reduces lines & wrinkles
Gives soft & smooth skin
Gives even skin tone
Visibly reduces pore size
L'Oreal Paris Revitalift Anti-Wrinkles Day Cream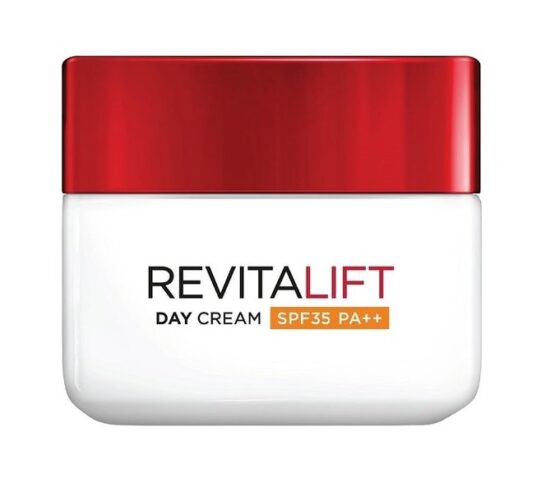 L'Oréal Paris Revitalift Moisturizing Day Cream is enriched with anti-aging elements that reduce wrinkles & fine lines, boost skin firmness, radiance, youthfulness and provides sunscreen / UV protection. A powerful anti-aging day cream created by L'Oréal Skincare Laboratories for triple action that gives wonderful transformation to your skin. It instantly boosts the skin texture for fairer, smoother and younger-looking skin. The company used Dermalift Technology, Pro-Retinol A & Centella Asiatica to re-firm, restore & and plump the skin.
Forest Essentials Soundarya Radiance Cream With 24K Gold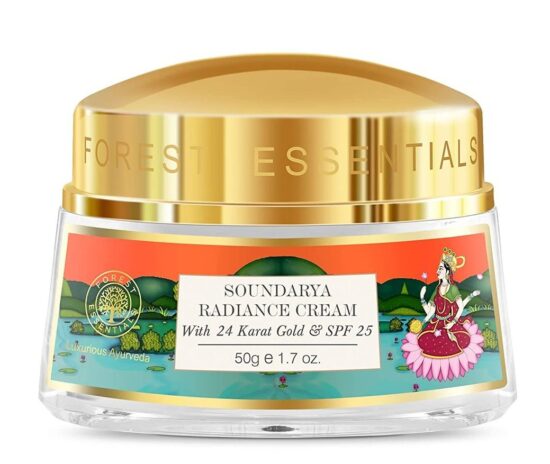 The Forest Essentials Soundarya Radiance Cream is an exceptionally rich yet light-textured moisturizer that is infused with precious herbs and real 24 Karat Gold. Together, they help to restore the firmness of the skin. The key benefits are as below:
Boosts collagen production

Contains real 24K Gold

Has SPF 25 to protect the skin from sun damage

Reduces puffiness and hydrates the under-eye area
Ponds Age Miracle Wrinkle Corrector Day Cream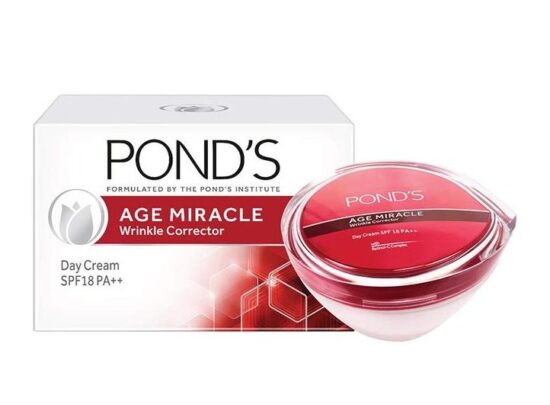 Pond's Age Miracle Wrinkle Corrector Day Cream SPF 18 PA++ is an anti-wrinkle cream made with Pond's most advanced technology Retinol-C Complex, which penetrates the skin continuously to release powerful anti-aging retinoid actives for 24hr non-stop. It can help reduce the appearance of fine lines and wrinkles from inside. This cream with SPF and PA also provides protection against UV rays. Added Vitamin B3 also helps in strengthen the skin's protective barrier and keep your skin looking fair and radiant.
The Face Shop Pomegranate and Collagen Volume Lifting Cream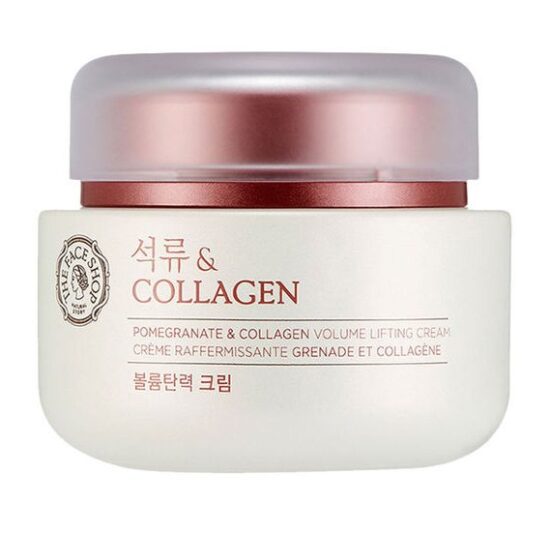 The Face Shop Pomegranate & Collagen is a volume lifting line that firms up and restores sagging and sunken facial contours. Through the synergy of pomegranate and marine collagen, this line is effective for lifting and firming up skin.
It is a skin firming cream containing pomegranate extract and collagen that infuses and plumps dry, sagging skin with moisture while providing radiance and nourishment. The uplifting and anti-wrinkle properties of this product moisturizes your skin while keeping firm and beautiful.
Lotus Herbals YouthRx Anti-Aging Transforming Creme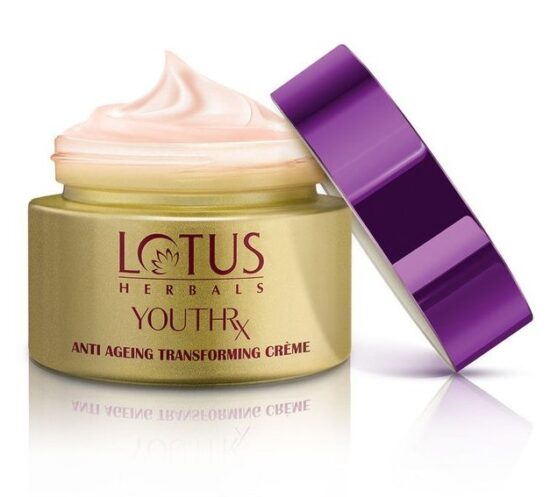 Lotus Herbals YouthRx Anti-aging Transforming Creme is a natural creme with sunscreen protection. This creme is created using the revolutionary 'Green Science' technology. Its natural anti-aging formula contains 'Gineplex Youth Compound' which is derived from potent natural ingredients. It absorbs easily into your skin to give it a younger, healthier, soft glow. It is enriched with SPF 25 PA+++ for protection against sun damage and in 7 days flat you will notice a visibly younger, healthier and glowing skin.
L'Oreal Paris Skin Perfect 30+ Anti-Fine Lines Cream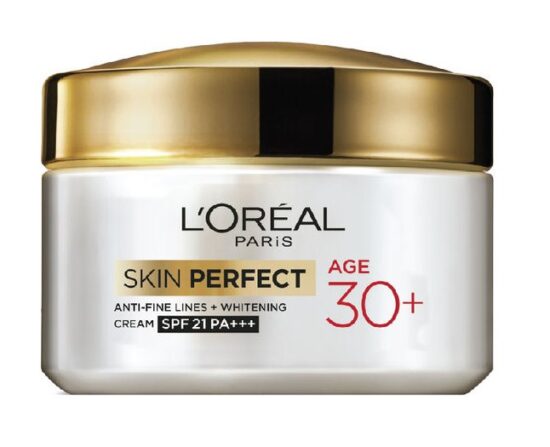 L'Oreal Paris Age 30+ Skin Perfect Range comprises of a moisturizing cream along with cleansing foam. Both contain pro collagen which is perfect for fighting those fine lines that begin to appear in your thirties, giving you younger, glowing skin.

With high performing active ingredients, L'Oreal Paris skin perfect offers a unique sensorial experience with visibly beautifying results. The product is designed especially for meeting the skincare needs of women with the age of 30 plus. The product is carefully crafted with enriching ingredients that can help fortify and replenish the vitality of the skin.
Innisfree Perfect 9 Repair Cream EX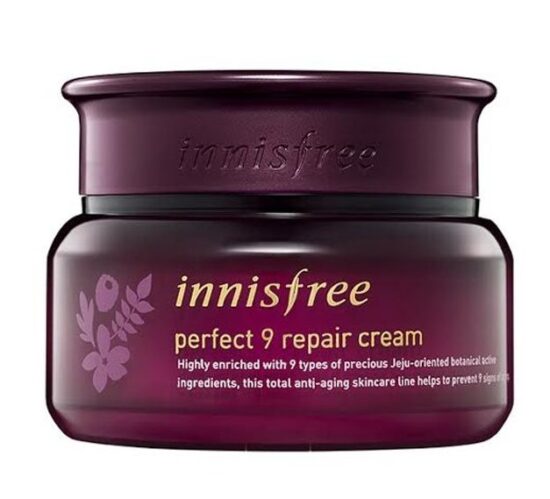 'Innisfree' is  a 100% natural beauty brand from Korea. The 9 active ingredients of Jeju anti-aging elixir complex effectively functions on various signs of aging, adding vitality to your skin. This cream creates a smooth and fresh complexion as it delivers ample nutrients and hydration to your skin.
This intensive repair cream, containing 9 active ingredients from the Jeju elixir complex, tightens and brightens your skin. It's a perfect repair formula for dryness, wrinkles, flakiness, darkening, blemishes, enlarged pores, and reduced skin elasticity. This cream provides proper nourishment and hydration to the skin.
Kaya Dramatic Renew Day Cream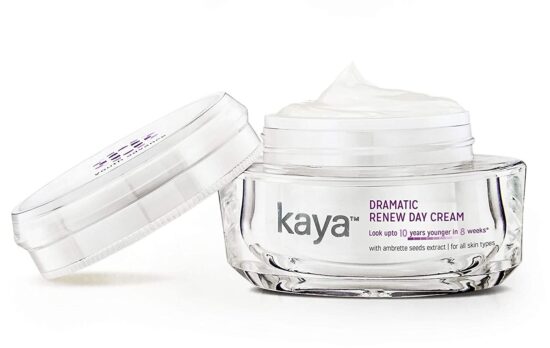 Kaya Dramatic Renew Day Cream, a Potent formulation that helps stimulate the production of collagen & restores the firmness & elastic of the skin. It helps in dramatically reducing the appearance of wrinkles, fine lines, and age spots. It smoothens the texture of the skin and also Improves skin firmness. Based on clinical study, Kaya Dramatic Renew Day Cream gives younger and healthier-looking skin.
Garnier Wrinkle Lift Anti-Ageing Cream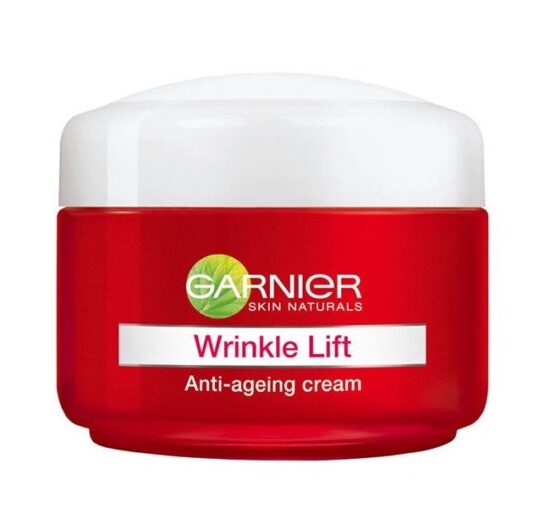 Garnier Skin Naturals Wrinkle Lift Cream is specially formulated with a unique blend of natural ingredients to ease out wrinkles and creases on your skin. With growing age and often due to stress, the facial skin starts losing its elasticity and firmness causing the appearance of wrinkles. Repeated contraction of facial muscles also contributes to the formation of creases and fine lines.
The Garnier Wrinkle Lift Anti-ageing Cream has powerful anti-oxidants like bilberry and cherry that boost the healing process and tone your skin to restore firmness. The presence of ginger extracts stimulates cell renewal and collagen levels, thereby restoring your skin to its youth.
Lakme Absolute Youth Infinity Skin Sculpting Day Creme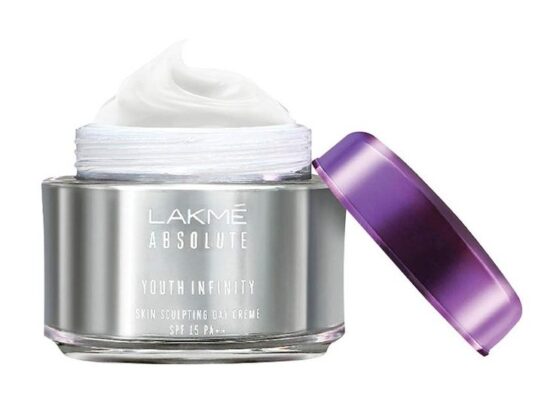 Get a youthful glow on your skin with the Lakme Youth Infinity Skin Firming Day Creme which is endowed with anti-aging properties. It makes your skin look younger after every use. Luminizing pearls instantly brighten your skin tone. It's Insta Collagen boosters help improve elasticity to tighten skin. It has SPF 15 PA++ which protects skin from the sun's harmful UVA and UVB rays. Regular use of the Lakme Youth Infinity Skin Firming Day Creme shows spectacular results, you get a youthful skin that is free from dullness and aging.
St.Botanica Retinol Advanced Anti Aging Day Cream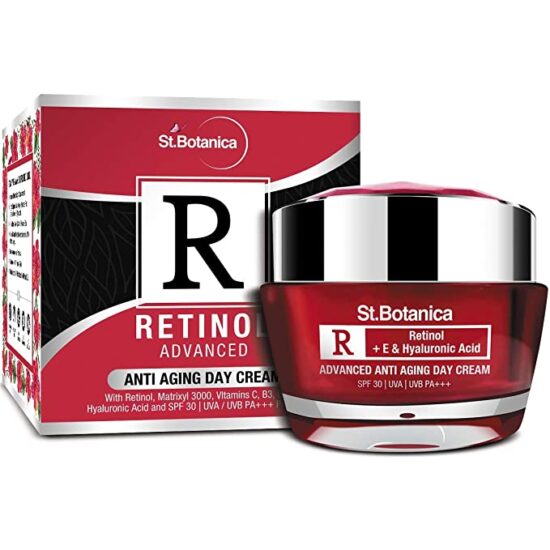 St.Botanica Retinol Advanced Anti Aging Day Cream Is Formulated To Provide Daylong Hydration And Anti-aging Support. It Is Packed With The Finest Skin Conditioning Agents, Natural Antioxidants, And Powerful Anti-aging Compounds. It is packed with the finest skin conditioning agents, natural antioxidants and powerful anti-aging compounds.
St.Botanica Retinol Advanced Anti Aging Cream is formulated With powerful and functional, natural and organic bioactive Ingredients. All the products are Toxins-free.
All the content in this post is taken from their respective websites, amazon and nykaa.