Face serums are an important part of your skincare routine. It is the next step we do after cleansing and before moisturizing. Face serums are better than face oils as they penetrate into the skin's surface for optimum effectiveness. Here I am sharing my views on St. Botanica Vitamin C, E & Hyaluronic Acid 24k Gold Night Face Serum. The 24K gold particles in the serum not only contribute to the luxe value of the product but it also boosts the anti-aging benefits of the product.
Why Use Face Serums?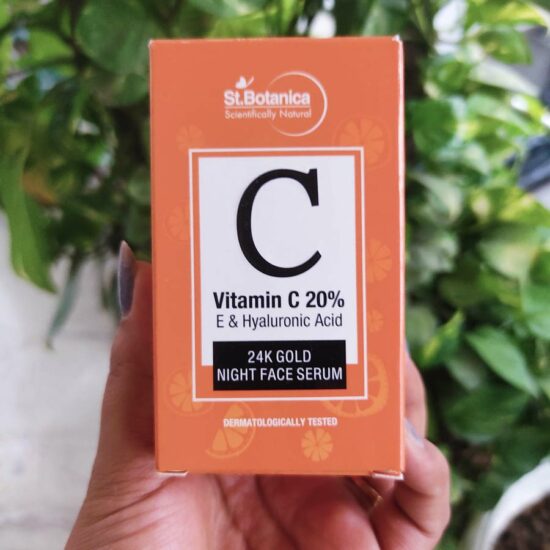 Behind every good skincare regimen lies one lightweight and hydrating serum. Enriched with ingredients such as hyaluronic acid, vitamin C, retinol, peptides, and much more, serums have the incredible ability not just to hydrate but also lift and brighten the skin. While the serum can be applied during day but night time is an especially conducive environment for serums to show the best results. All skin types have different needs, but the skin's inherent need for nourishment and moisture remains constant. However, the benefits do not just end here. A serum is made up of small molecules that can penetrate deeply into the skin and provide a high concentration of active ingredients providing effective yet faster results than the average moisturizer. Though all serum brands have individual benefits, only a few are known to give a natural glow to the skin that radiates from within.
St. Botanica Vitamin C 20%, E & Hyaluronic Acid 24k Gold Night Face Serum is one such product. Its exclusive vitamin formula is powered by 24K gold fragments and other bioactive compounds to bring out the skin's luminous glow. St. Botanica's non-greasy silky serum works during the night to significantly reduce the signs of aging while giving the skin a smoother and renewed appearance.
The St. Botanica Formula: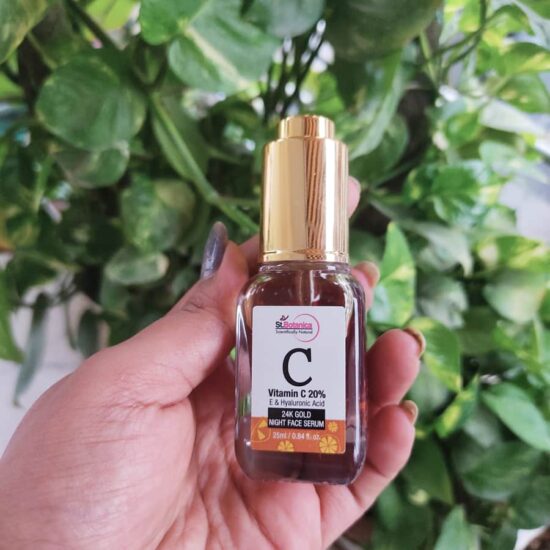 A formulated radiance-boosting product, the serum incorporates the benefits of Vitamin C, Vitamin E, and hyaluronic acid. Its star ingredient, Vitamin C, is obtained from highly stable forms, and when applied topically, it can reduce the discolored areas, evening out the complexion for brighter, smoother skin. Further, the powerful antioxidant also stimulates collagen production, firming the skin to be less prone to fine lines and creases from aging.
Additionally, St. Botanica's serum features vitamin E, which is known for its moisturizing and healing benefits. The naturally occurring antioxidant restores the damage caused by environmental stressors such as air pollution or sun exposure and strengthens the skin barrier. Additionally, its anti-inflammatory nature also soothes and calms the skin.
Any serum will fall short of its benefits if not accompanied by the iconic "beauty-must" ingredient hyaluronic acid. The naturally occurring humectant is highly recommended by experts to ease all aging concerns of the skin. Hyaluronic acid is one of the key ingredients of St. Botanica's facial serum and is formulated to restore skin's moisture while subsequently boosting firmness and delaying the formation of wrinkles or fine lines.
The list doesn't end here. The incredible serum from St. Botanica is further adorned with 24K Gold fragments making St. Botanica serum among few skincare products to illuminate the skin inside out truly. With a unique composition offering the best of nature, the product is a comprehensive skincare system promoting the repair of past visible damage while also offering preventative benefits with its every drop.
Who is it for?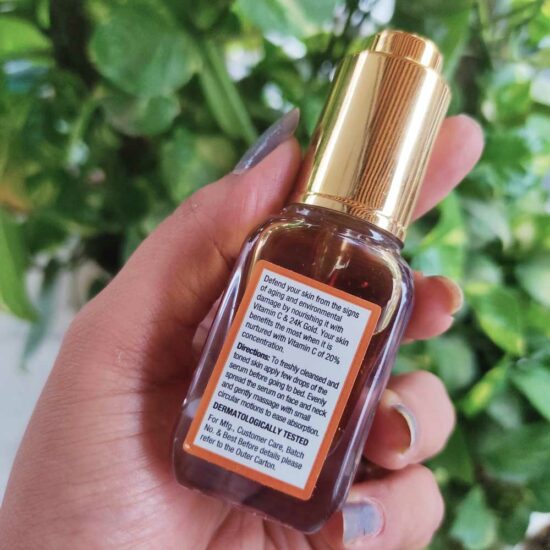 Although St. Botanica face serum is a complete skincare solution to all skin types, it works best to improve the appearance of dull, dry, and dehydrated skin. Designed to boost naturally youthful-looking skin, the serum provides a myriad of benefits, including the reduction of uneven skin tones, complexion brightening, and anti-aging properties.
The environmental conditions specific to the Indian tropic are known to induce higher pigmentation for the Indian skin than others. In contrast, Caucasian skin is more likely to develop creases and wrinkles early on. The St. Botanica serum is crafted especially with the specific needs of the diverse skin types to provide an entirely dedicated solution. It is also free of mineral oil and other toxic compounds such as paraben, phthalate, and sulfate, meaning it won't block the pores or cause breakouts. This makes it especially great for combination, oily and sensitive skin types too.
When to Apply Face Serum?
When skin enters its natural renewal process during the night, supporting its inherent purification and repair mechanism with St. Botanica serum can make the real difference. The hydrating hyaluronic acid and antioxidant enriched formula will encourage cellular turnover making the most of skin's own nightly repair process. Its advantages extend during the day, too, as it protects skin from environmental assaults of pollution, ozone, blue light, and micro-dust.
How to apply Face Serum?
A few drops of the serum should be applied on clean skin and massaged gently all over the face and throat. Immediately after it settles onto the skin, the Vitamin C 24K Gold Night Serum should be sealed by a moisturizing face cream or oil to ensure the skin remains hydrated.
St. Botanica for Skin-Changing Results:
While the serum does not claim to transform skin overnight, its consistent application will create results that speak for themselves. It can take anywhere between two to three months of use to see genuine improvement. After a month, Vitamin C 24K Gold Night serum will ensure controlled oil production on the skin, while two months of use will firm the skin, making it appear more radiant and toned, and less lined. Finally, visibly bright skin with clean and clear appearance will be apparent beyond the three-month mark.
A standard skincare routine may not work for all skin types, and it can take some trial and error to find the right fit. Taking care of the skin and starting early on can mean great-looking skin in the long term. And St. Botanica's Vitamin C 24K Gold Night Serum is the best pathway to an effortless natural glow that keeps the lines, creases, and dullness at bay and youthful radiance on the face.