Green Tea has a lot of health benefits as It's full of antioxidants. The most common reason to have green tea these days is that it helps in weight loss. Green tea may boost metabolic rate which helps in weight loss.??
While searching I found this Blue Nectar Amritanadi Assam Slimming Green Tea. It looks really impressive. I always prefer to purchase tea bags instead of leaves as it's tricky to make a perfect cup of green tea with leaves. That's why I became a little dicey before purchasing it. But I finally purchased it to give it a try. It's been a month I'm using this tea. Here is my detailed review of my experience with Blue Nectar Amritanadi Assam Slimming Green Tea for Weight Loss with Idukki Cardamom…?
You can Buy it here :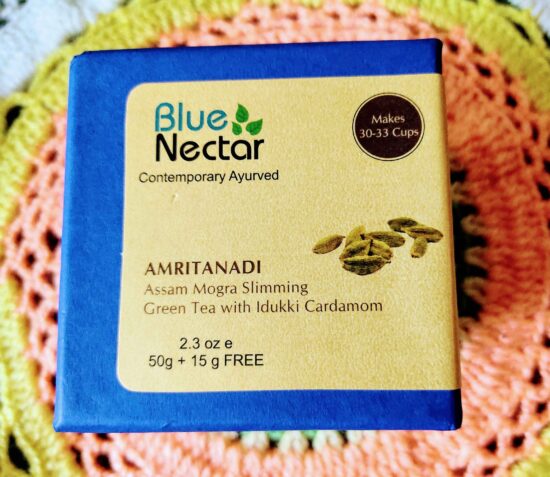 Packaging:
This tea comes in a small hygienic nice-looking Airtight Glass Jar with a golden lid. Glass bottle is secure in a blue outer cardboard box with company branding and details about tea. I must say the packaging is quite impressive.
Flavors:
There are many different varieties and flavors of green tea available by Blue Nectar:
I choose Slimming Green Tea for Weight Loss with Idukki Cardamom.
The time I opened the jar the sweet and fresh Cardamom aroma makes me feel happy. I loved the aroma and flavor of Cardamom.
Taste:
The taste of this green tea is nice. I loved it. Usually, the green tea gives a bitter taste but this Blue Nectar Amritanadi Assam Slimming Green Tea is different. Every sip of Cardamom flavored green tea refreshes the body. I'm loving every sip of it.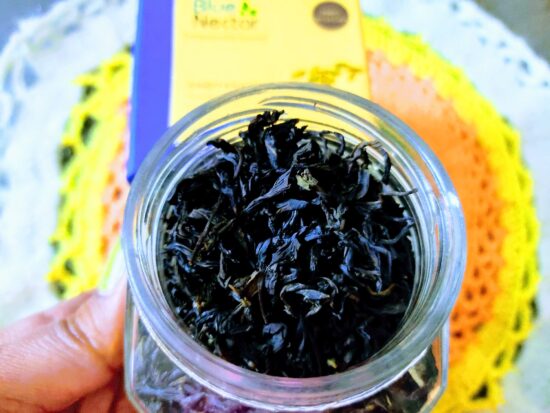 How to Prepare:
To prepare a perfect cup of this tea is simple. Just take a pinch of tea leaves from the bottle. Put it in a cup and pour some hot water and cover it with a lid. Let it brew for 1 to 2 minutes and your perfect cup is ready to drink. I liked when after brewing the rolled leaves open up and settle down at the bottom. Some leaves come up in my cup so I always prefer to strain it.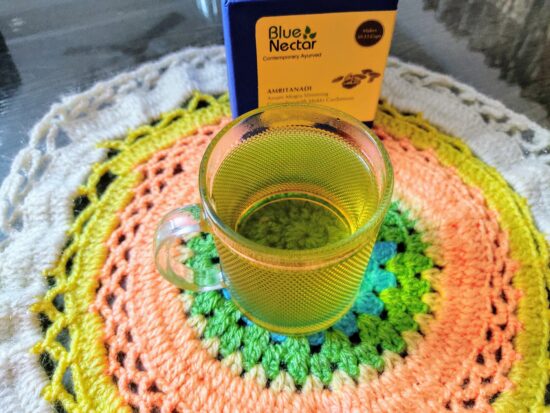 Product description by Blue Nectar:
AMRITANADI Mogra Slimming Green Tea for Weight Loss is picked from the finest Tea Gardens of Assam. Unlike most other Slimming products, this is a pleasant-tasting Green tea without any side effects. It is a mild tea that is extremely helpful for Weight loss & Slimming. With subtle cardamom flavor, Every sip of Cardamom flavored green tea refreshes the body & awaken senses. If you are not a green tea drinker, this tea will change your perception. If you are green tea habitual, you will simply love it.
AMRITANADI green tea contains Loose tea leaves which is the most natural way of tea consumption. Devoid of tea processing or tea dust, loose green tea leaves help you see the quality and purity of tea from your naked eye, unlike tea bags where at times tea dust is hidden inside teabags. Consumption of hot water is known to aid in digestion, burn fat and aid weight loss. Consuming tasteless hot water is not everyone's cup of tea. Hence, comes flavored green tea with Cardamom. Cardamom makes hot water palatable while adding its slimming properties. So if you are looking for Slimmer you or toned body or a tasty green tea, try Amritanadi Green Tea and you will be an addict.
SYH Recommendation:
I'm happy that I gave this tea a try because now it has become one of my favorite brands for green tea. I liked the taste of this tea. Every person's taste likings are different so try it once, maybe you like it too.