Stretch marks are very common. Anyone can develop them in some point of their life. There are several reasons due to which these lines appear across your skin. Usually these marks or scars are visible due to pregnancy, weight gain, weight loss, bodybuilding and aging. Although they are harmless but still some people don't feel good as they are quite visible, skin looks uneven, and It affects the physical appearance. I've found a wonderful solution, Phade Stretch Marks Cream which can really help in fading these stretch marks. With that said, let's move on to the review:
About the Product
The key ingredient in Phade Stretch Mark Cream is CICA, which is a medicinal plant that is known to be very effective. CICA, which is also known as gotu kola, helps to repair damage and increase skin elasticity. CICA has been proven to help with stretch marks during and after pregnancy. The cream is based on the most powerful peptides that work together to improve the appearance of stretch marks.
Key Ingredients
In spite of several other ingredients, Phade stretch marks cream contains various essential oils.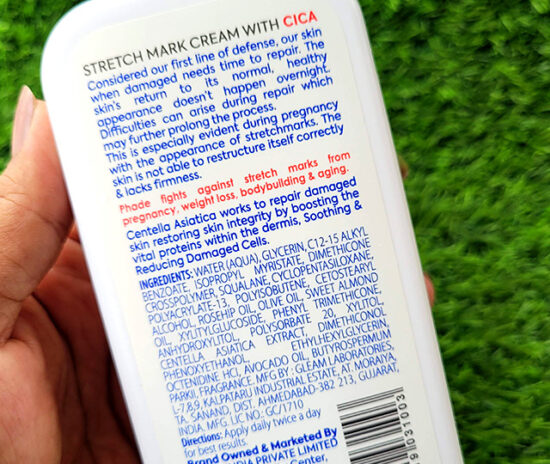 Avocado Oil
Vitamins A, D, and E found in avocado oil are essential for maintaining healthy skin. These nutrients help the skin heal and repair itself. The Omega-3 fatty acids in avocado oil are known to combat aging and heal damaged cells. Avocado oil's intense moisturizing properties make it very useful for stretch marks.
Sweet Almond Oil
Almond oil contains high levels of vitamin E and other essential nutrients, which deeply moisturize and condition the skin. It also helps to support cell health and protect the skin from deterioration. Furthermore, almond oil can help to reduce the redness of marks over time.
Rosehip Oil
Rosehip oil is an effective natural remedy for improving the appearance of wrinkles, scars and stretch marks. Cold-pressed from the seeds of certain varieties of rose, it's rich in anti-aging vitamins A and E, as well as essential fatty acids and other nutrients that help fade scars, brighten skin tone and restore elasticity.
Olive Oil
Olive oil contains a high concentration of nutrients and fatty acids, making it an effective natural remedy for stretch marks. By applying a consistent layer of olive oil to your skin, you can help to gradually fade away the appearance of your stretch marks.
Why Choose Phade Stretch Marks Cream?
Now you will think as there are so many options available in the market for stretch marks reduction, why to choose Phade?
There are several reasons why I select this cream:
Several clinical trials have been conducted to prove its efficacy before it has been launched.
The main ingredient in this cream is CICA, which helps keep your skin elastic, hydrated and supple.
The other amazing ingredients and essential oils.
It helps in improving uneven skin tone and texture.
The cream is safe to be used during pregnancy.
It helps in skin reconstruction and repairs cell damage.
This cream is lightweight and absorbs quickly into the skin.
It smells very nice.
Price & Packaging
It comes in a pump bottle which is really convenient to use. Its MRP is Rs.800 for 200ml bottle, but you can get it on good discount from Amazon and Flipkart.
How To Apply
Take some amount of cream.
Apply directly on effected area.
Leave it and lets Phade do it magic.
My Experience With Phade Stretch Marks Cream
I got stretch marks on my belly during my pregnancy, and they never really bothered me until I had to wear a saree. I didn't like how they looked, so I decided to do something about it. After searching online, I found Phade. The ingredients in their product convinced me to buy it, and I'm so glad I did! This cream really worked for my stretch marks and they are fading. My uneven skin tone and texture is also improving.
So if you're looking to get rid of stretch marks, scars, or improve skin hyperpigmentation, I suggest using Phade stretch marks cream that will help to make your skin look hydrated and supple. Always remember that to be patient and consistent is the key for the best results, nothing can work wonders overnight!