We all know we can't be sending our hair down the drain everyday with the shampoo and conditioner combination that's currently being used. Unfortunately, most of us don't have much time in between to take care of it properly. If you remember to give your scalp a nice hot oil massage at least once a week or every other week or even more frequently if possible, you will find an overall difference in the texture and quality of your hair becoming smoother and fuller after just a few weeks of consistent care. Massaging your scalp helps promote blood circulation which carries essential nutrients throughout every strand, ultimately stimulating healthy hair growth.
There are 4 variants available:

Recently I got my hands on two variants of Mamaearth's hair oil boosters. So I thought I'd share it with you all. So without wasting more time lets dive into Mamaearth's hair oil boosters review:
Rice Hair Oil Booster

:

Pollution, sun exposure & chemical treatments can all contribute to your hair being very dry, rough and dull. Mamaearth Rice Hair Oil Booster is a kind of remedy that hydrates damaged hair and restores softness & shine. This unique hair oil booster transforms hair care by infusing nutrients into honey quills. It helps you achieve your goals with its potent mix of natural oils (rice strainer oil) enhanced with antioxidants & keratin or you can use it alone for extreme hydration & nourishment. A perfect solution for dry, damaged hair!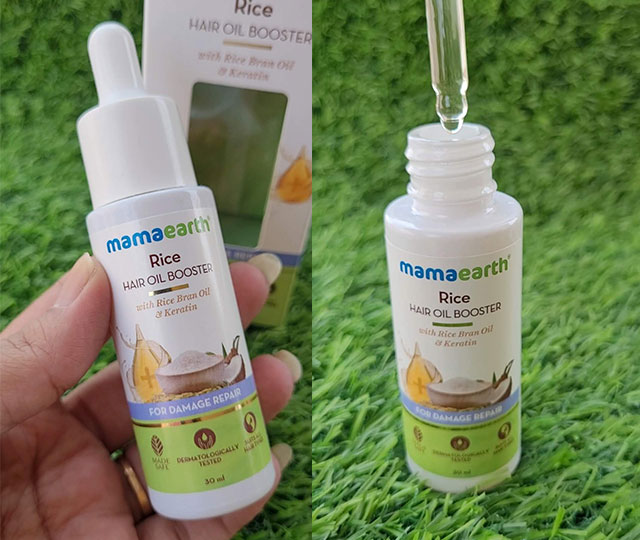 Key benefits:
Provides smoother, shinier & and voluminous hair.
Improves hair texture
Prevents hair damage and split ends
Non-sticky formula
It's made safe and suitable for all hair types
No harmful chemicals or toxins
Key Ingredients:
Rice Bran Oil: It helps to nourish and repair damaged hair.
Coconut Oil: Vitamins & Fatty Acids present in coconut oil helps to rejuvenate dry and rough hair.
Keratin: It helps to restore hair health, reduces frizz, and gives your hair a glossy sheen.
Shea Butter Oil: It helps to seal in the moisture and nourishes your strands.
Other Used Ingredients:
Sesame Seed Oil, Olive Fruit Oil, Sunflower Seed Oil, Tea Seed Oil, Castor Seed Oil, Tocopheryl Acetate, Isononyl Isononanoate, Tertiary Butylhydroquinone, Isostearoyl Hydrolyzed Keratin
Tea Tree Hair Oil Booster

:

Struggling with dandruff and itchy scalp? Treat them naturally with tea tree oil-based products. That's right – a recent study has shown that anti-fungal properties in the essential oil can not only fight skin fungus, but also prevent it from causing more severe dandruff symptoms which include hair loss, irritation, and general scalp problems. This new Mamaearth Tea Tree hair oil booster which is formulated to make your hair protection more efficient. For those struggling with dandruff and irritated scalps, here's some help from this lightweight and non-sticky hair oil booster made with Tea Tree Oil which is packed with antifungal, anti-bacterial, anti-inflammatory properties. Its soothing properties will help you get rid of itchy scalp as well as control dandruff while strengthening your hair follicles too. Salicylic Acid present in this oil helps to remove build-up and clarifies the scalp. This facilitates things to function correctly, resulting in healthy hair.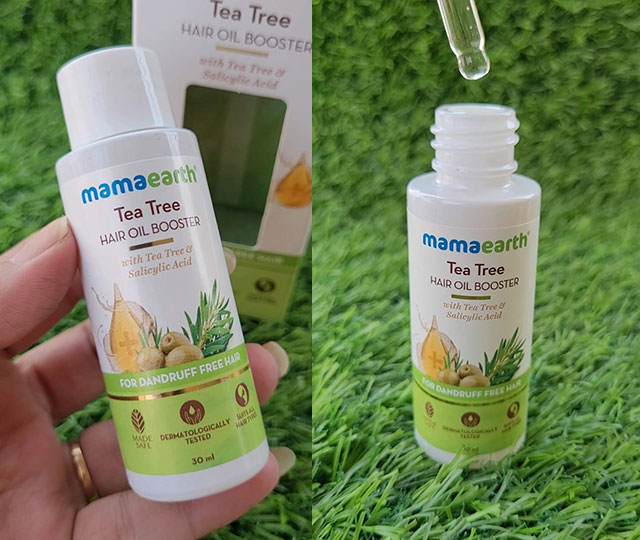 Key benefits:
Helps to remove build-up and reduce dandruff.
Soothes Itchy Scalp.
Strengthens your hair follicles.
Lightweignt and Non-sticky formula.
It's made safe and suitable for all hair types
No harmful chemicals or toxins
Key Ingredients:
Tea Tree Oil: It is rich in antimicrobial, anti-fungal, and antibacterial properties which helps to soothes itchy scalp and reduces dandruff.
Ylang Ylang Oil: It helps to regulate the scalp's oil production and supports hair health.
Salicylic Acid: It helps to unclogs pores and gets rid of oil and grime build-up, restoring the scalp's health.
Rosemary Leaf Oil: It helps to reduces dandruff and also stimulates blood circulation.
Other Used Ingredients:
Sesame Seed Oil, Olive Fruit Oil, Sunflower Seed Oil, Tea Tree Leaf Oil, Castor Seed Oil, Lemon Oil, Vetiver Oil, Tocopheryl Acetate, Tertiary Butylhydroquinone