The festive season is here. So I thought to share some outstanding Mehndi Designs to try for occasions. There is a lot of cultural significance of mehndi in Indian tradition. I think every girl or woman loves to apply mehndi for occasions like weddings, Karva Chauth, Eid, Raksha Bandhan, or any other festivals. The color and fragrance of mehndi attracts all of us very easily. Mehndi plays an important role in our Indian tradition. Nowadays mehndi is loved not only in India but also in other countries too.
In today's modern time the designs of mehndi or henna have become more decorative and ornamental. Today you can get many types of mehndi designs like Rajasthani Mehndi, Arabic Mehndi, Tattoo Mehndi, Crystal Mehndi, Sticker Mehndi, etc. But still, I think the traditional Indian Mehndi is the most popular among all of them. Mehndi designs are mainly formed of a mandala, floral patterns, religious symbols, beal, and buta, etc.
I'm fond of mehndi but whenever I want to apply mehndi I always struggle for the right design that looks beautiful. Today I have selected some latest henna designs for you so that you can find beautiful mehndi designs without struggling out any more. So without further ado let's directly jump into the list. I hope you like these designs…
Front Hand Mehndi

Designs
There are so many mehndi designs to choose from. Here I've selected some of them according to my taste. Hope you all like it. Scroll down for the list of some latest and beautiful front hand mehndi designs:
This is the beautiful pattern mehndi design. This henna design is simple yet elegant to use for any occasion.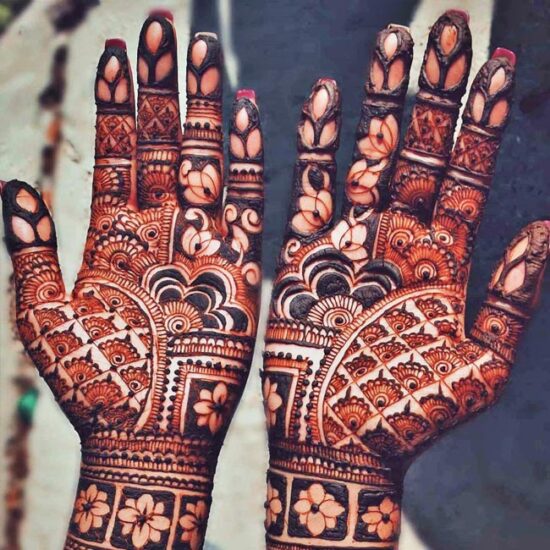 2.
Light Bridal Henna Design
You can choose these designs for normal occasions like Karwa chauth, Raksha Bandhan, Eid etc or can also use it as bridal mehndi design.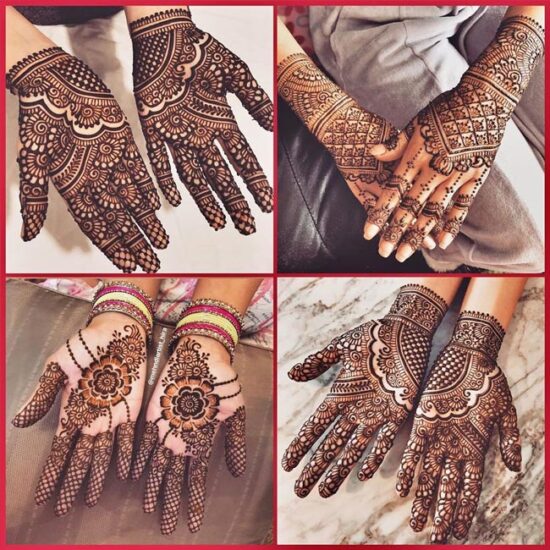 3.
Illustartion Of Love Story
This mehndi design is really unique and latest. Here you can see skyline drawn into a connecting heart. It's perfect for someone who wants some creativity on their palms.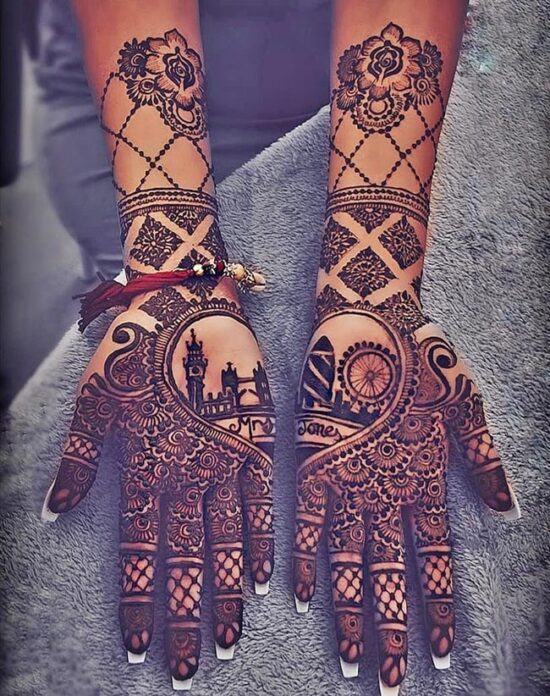 4.
Floral Patterns
In this mehndi design the blank space is use very creatively. Neither we can keep this design in full bharwa design nor in Arabic mehndi design.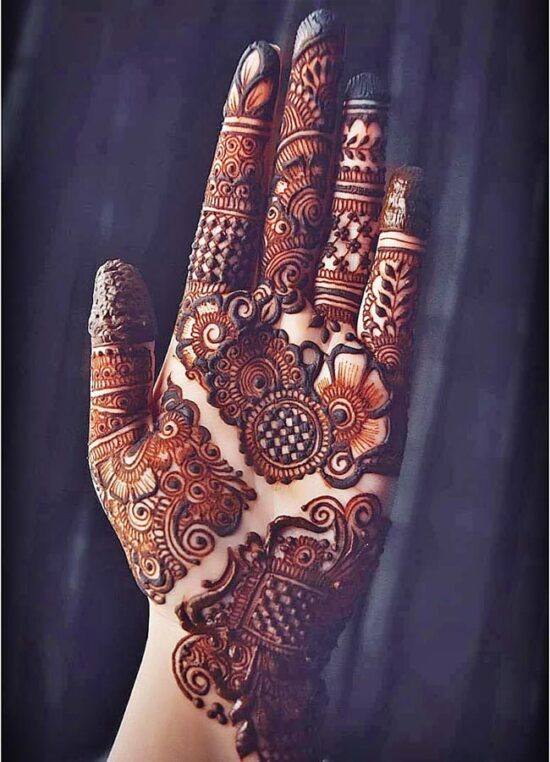 5.
Paisley Love
In this design the paisley pattern is used in an innovative way and the outcome is really beautiful.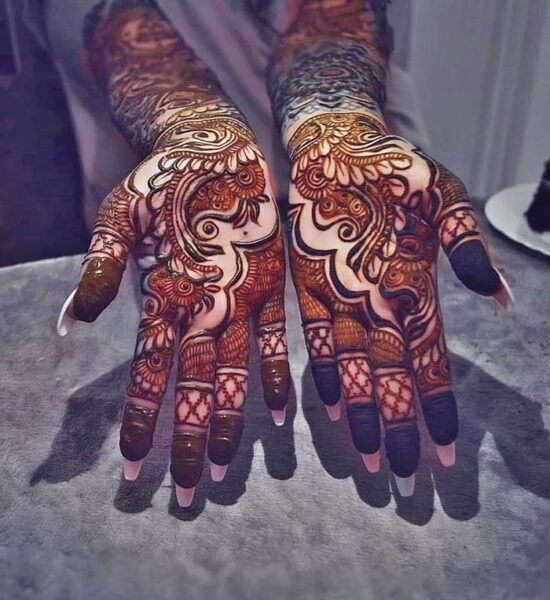 6.
Shaded Flower Mehndi Design
Here mehndi artist has used big connecting shaded flower and different patterns.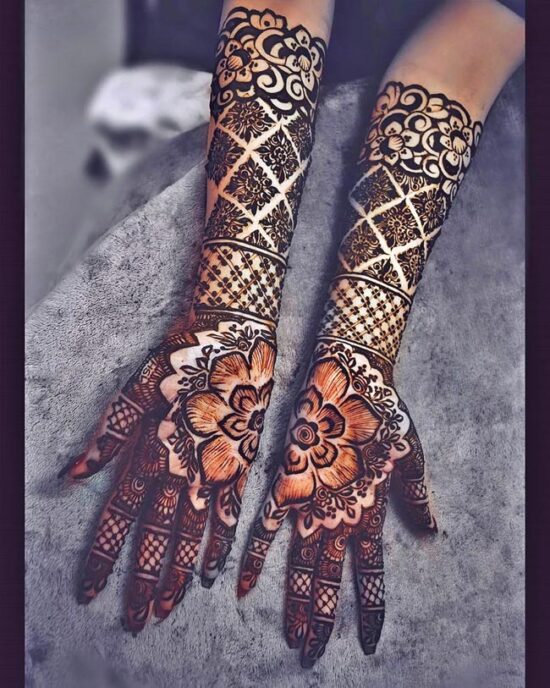 7.
Simple Yet Pretty
This henna design is easy and simple. You can see the checker pattern here too, which looks beautiful.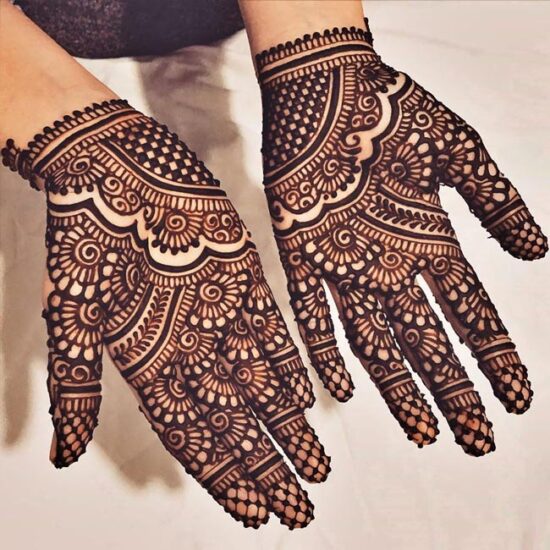 8.
Traditional Mehndi Design
This henna design gives a feel of traditional design. The elephants on the top giving it a look kingdom.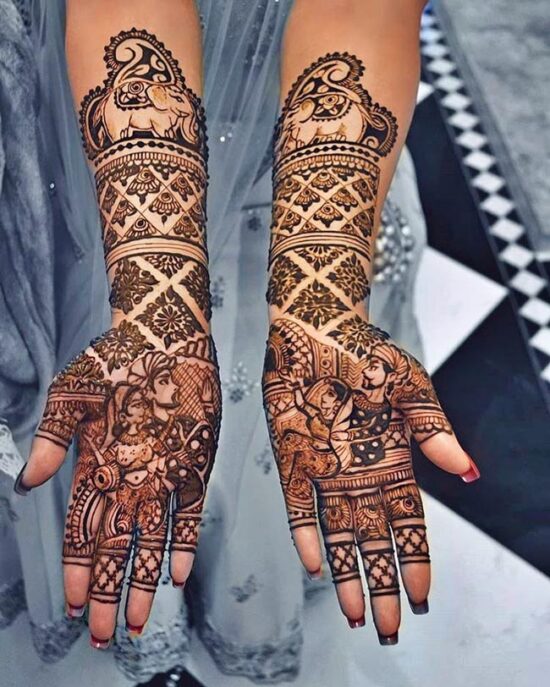 9.
Simple Yet Elegant
This mehndi design looks simple but still it's beautiful and elegant.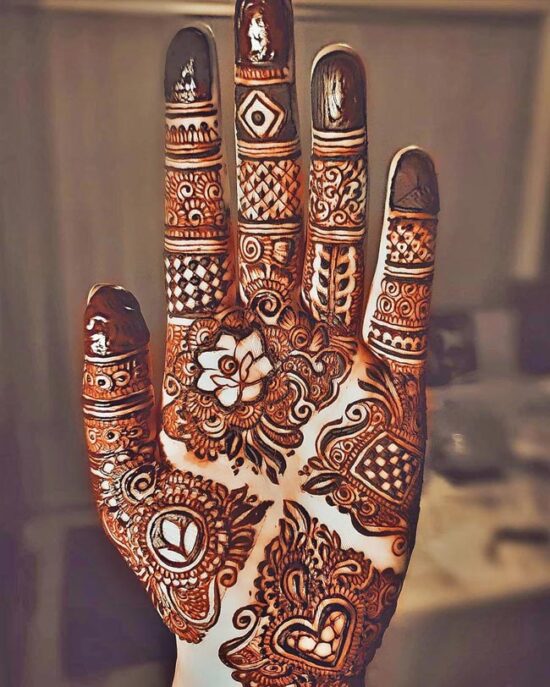 10.
Beautiful Grid Design
In this mehndi design grid pattern is looking awesome. Checks on the fingers are enhancing the design more.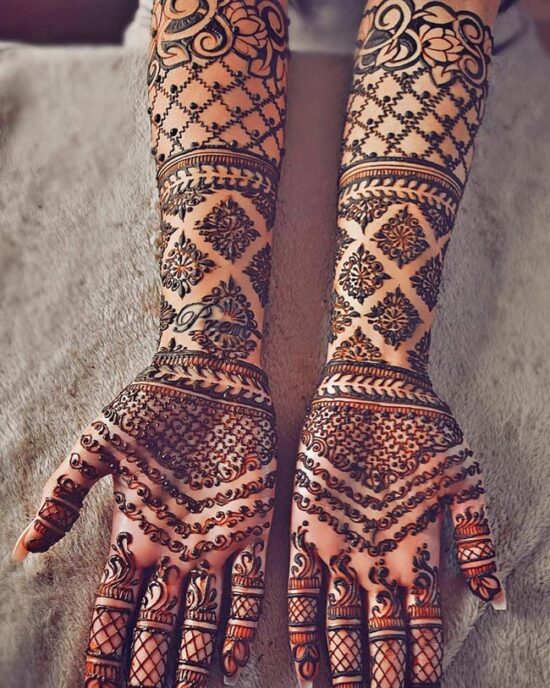 11.
Swirls Mehndi Design
This design gives a look of arabic design. The use of mandala and swirls giving it an elegant look.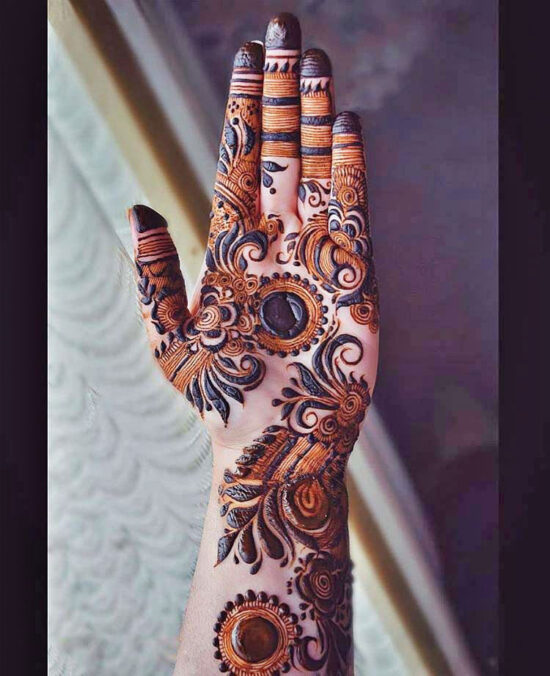 12.
Diamond Patterns
If you are crazy about diamonds do try this design. It looks stunning.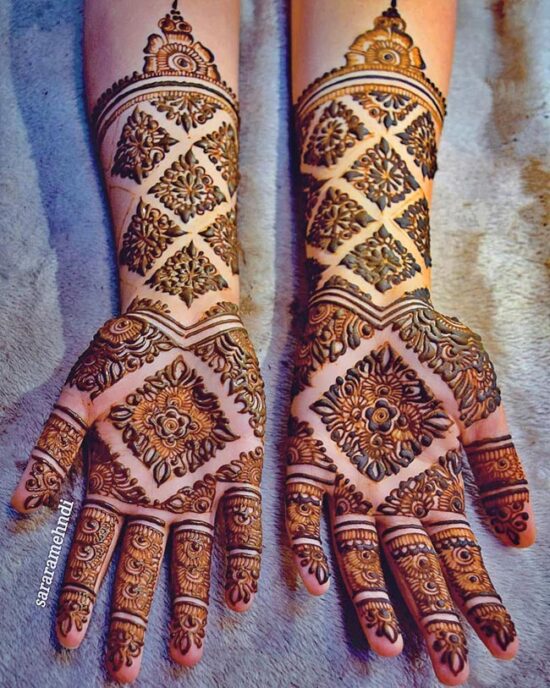 13.
Bridal Mehndi Design
Beautiful bridal mehndi design with lots of flowers and patterns.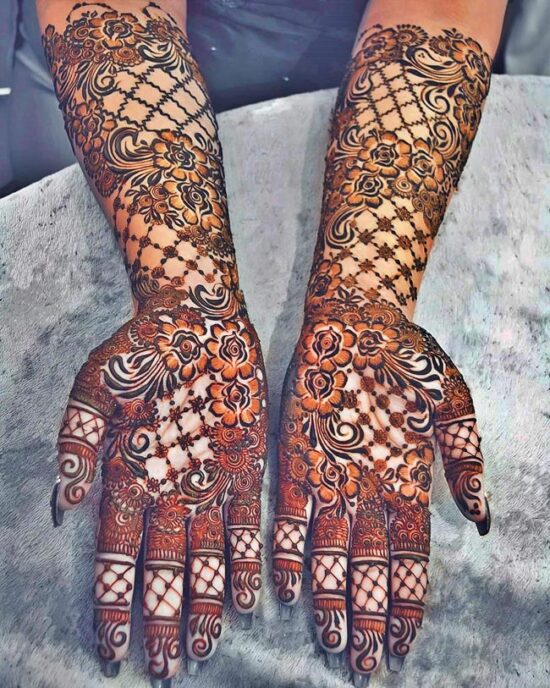 14.
Side Hand Mehndi Design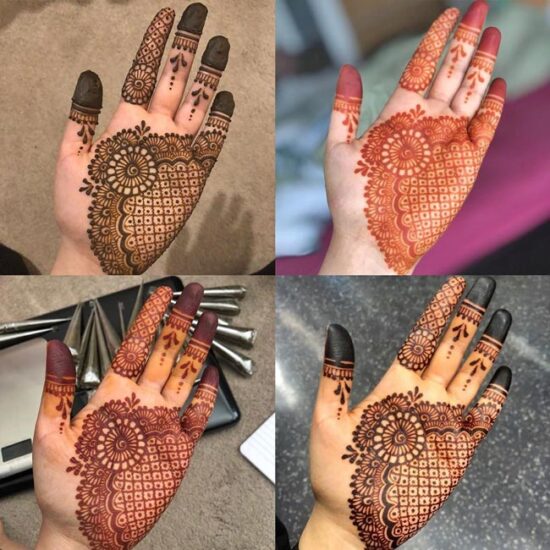 15.
Nets Galore Pattern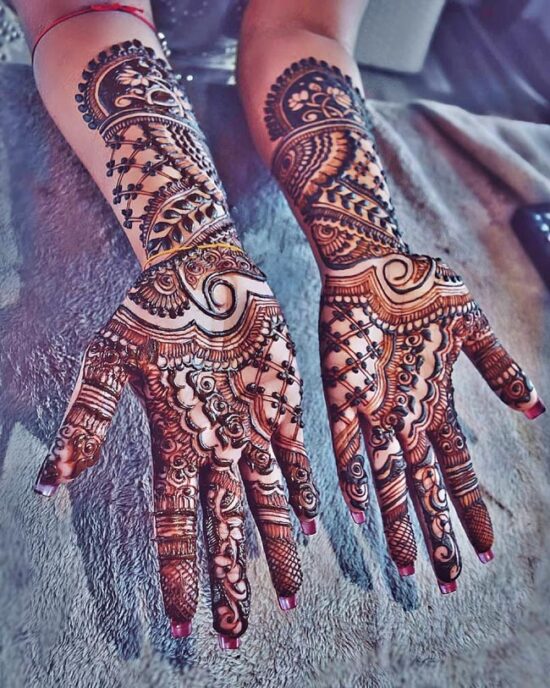 16.
Random Pattern Mehndi Design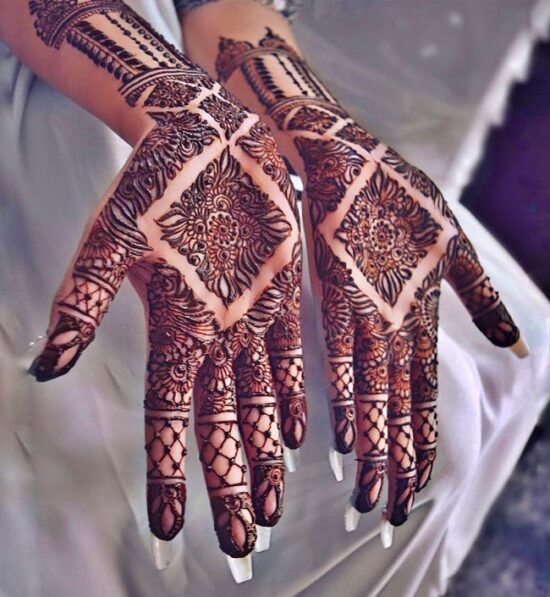 17.
Flowing Arabic Beads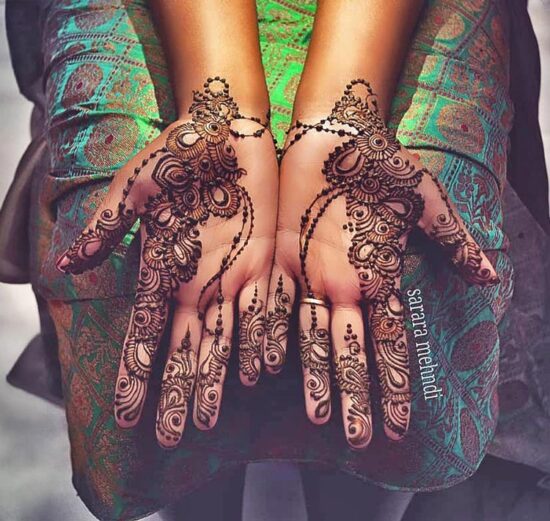 Back Hand Mehndi Designs
Scroll down for some of the selective mehndi designs for back hand…
18.
khaliji Style Mehndi Design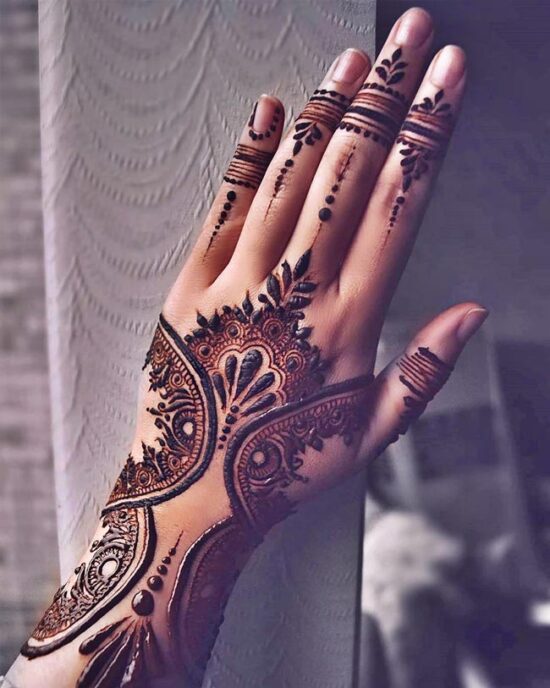 19.
Nets and Flowers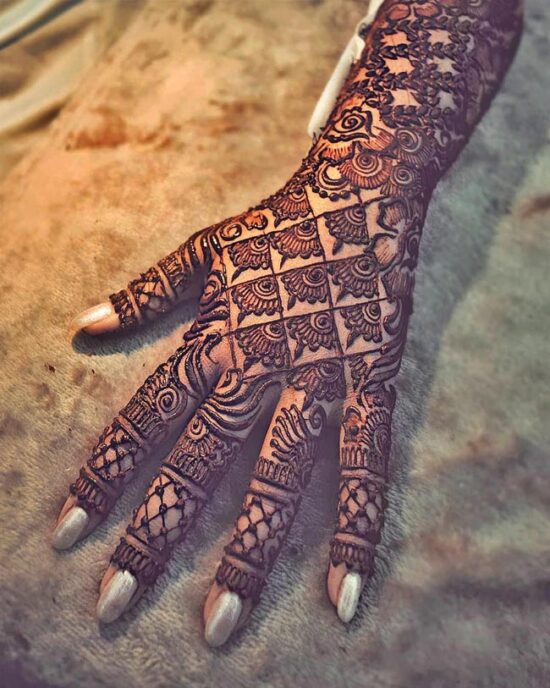 20.
New Rose Mehndi Design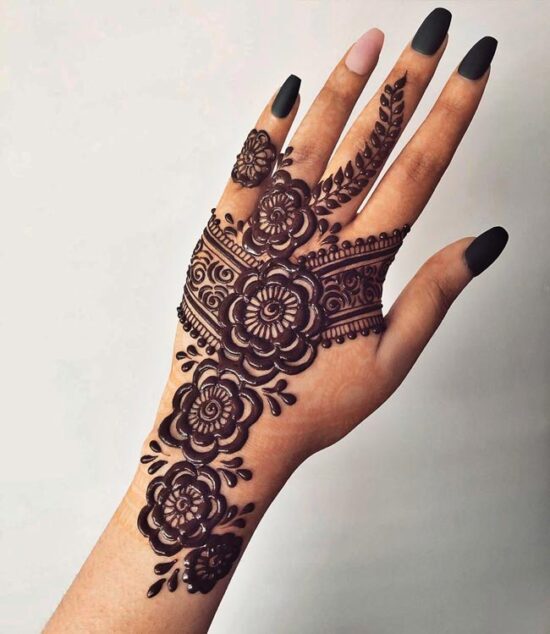 21.
Diamonds Forever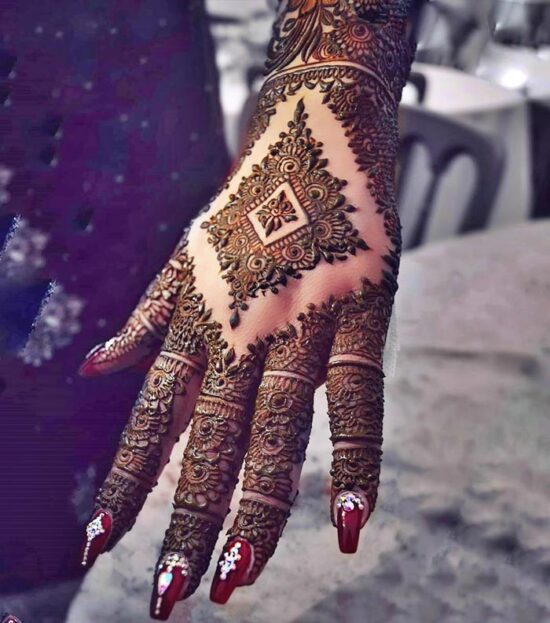 22.
Bold and Defined Khaleeji Design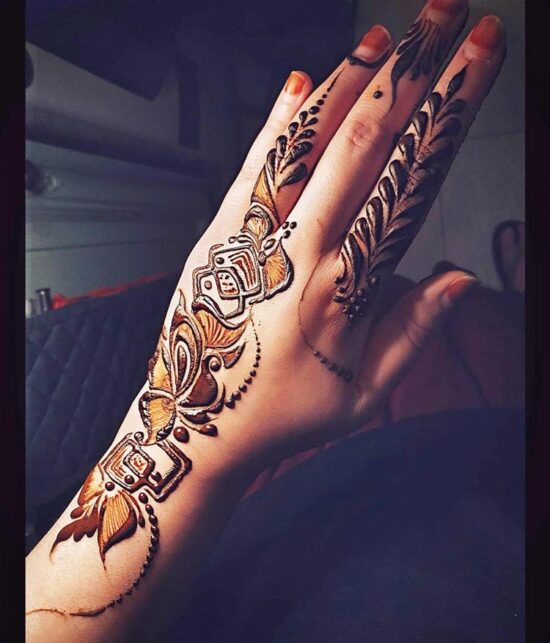 23.
Feel Of Ornaments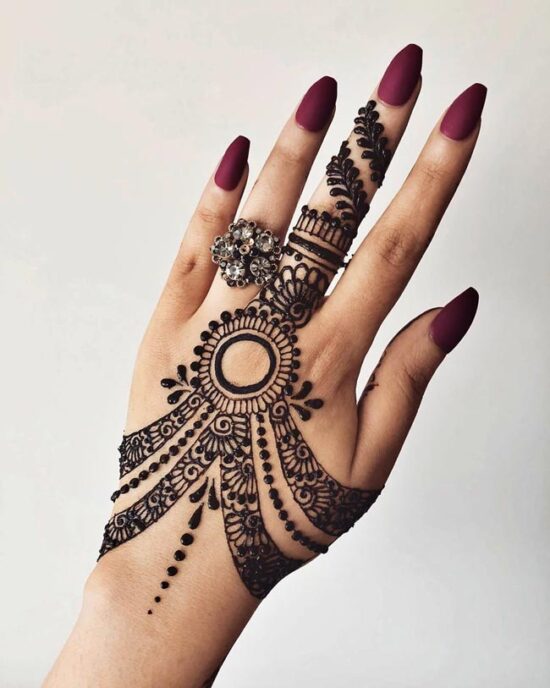 24.
Circular Strokes With Beads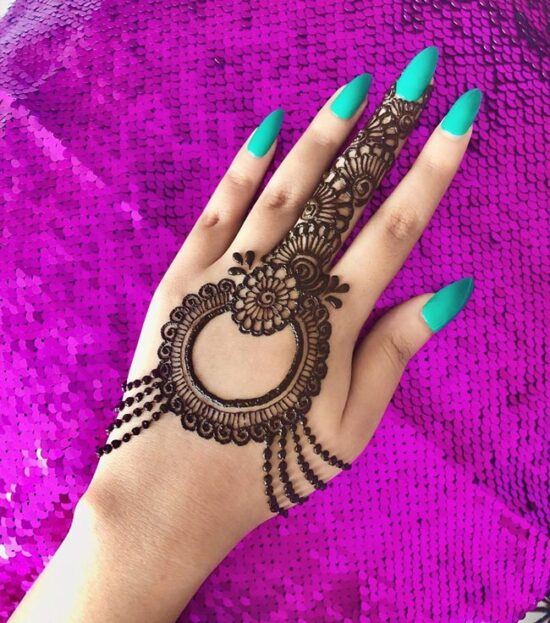 25.
Beautiful Net Pattern Design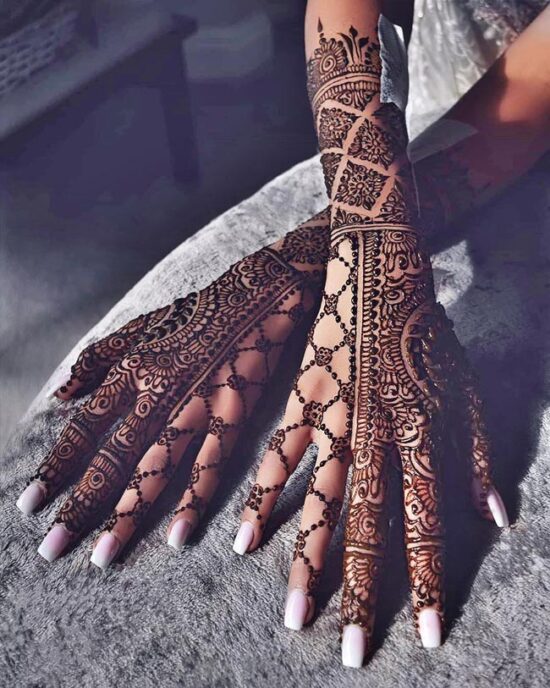 26.
Musical Notes With Flowers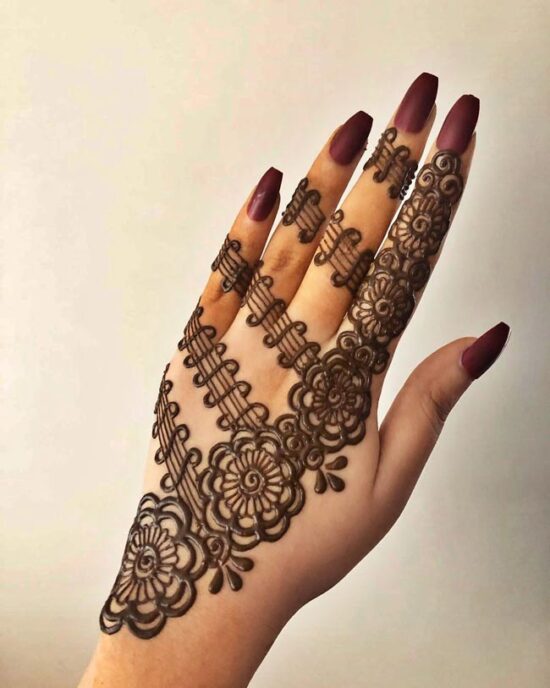 27.
Checkered Composition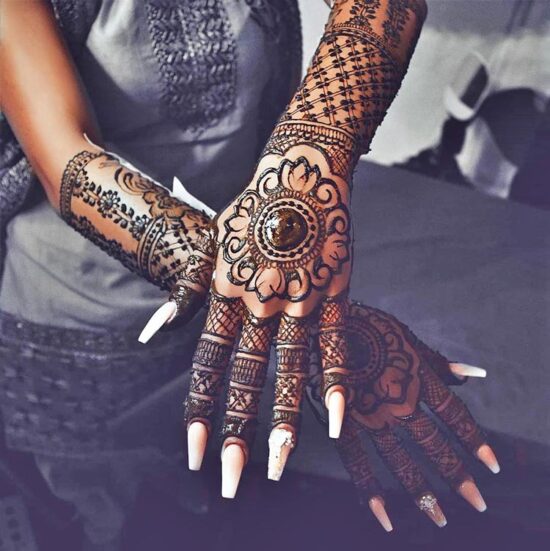 28.
Center Flower Design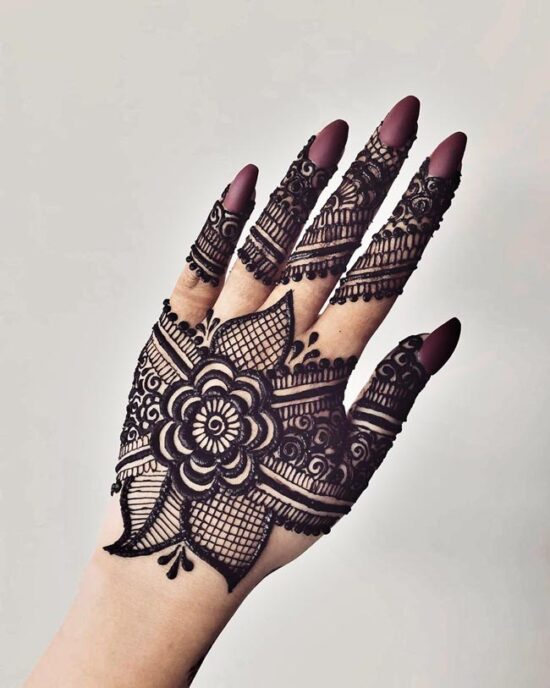 29.
Beads And Patterns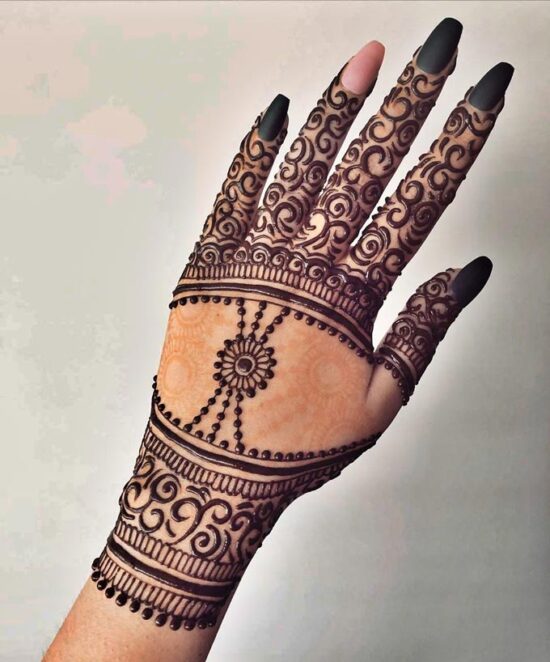 30.
Back Hand Finger Design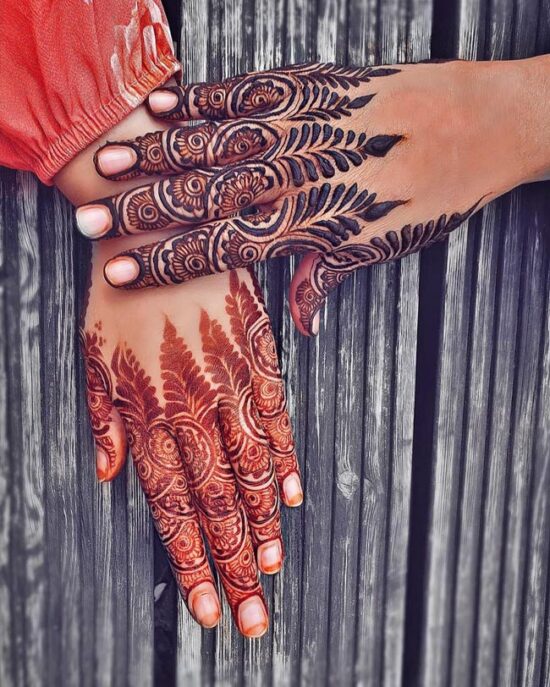 31.
Love For Flowers Pattern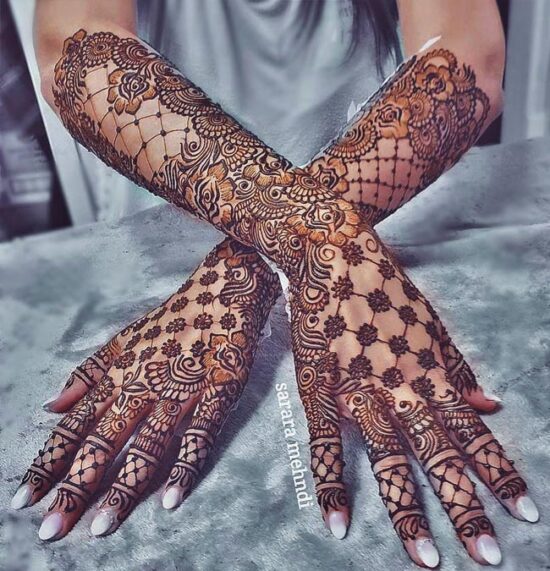 32.
Bells And Nets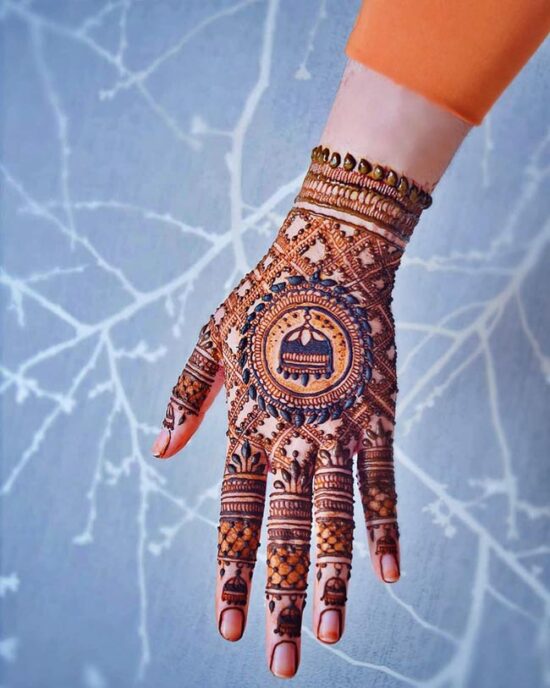 33.
Mandala Mehndi Design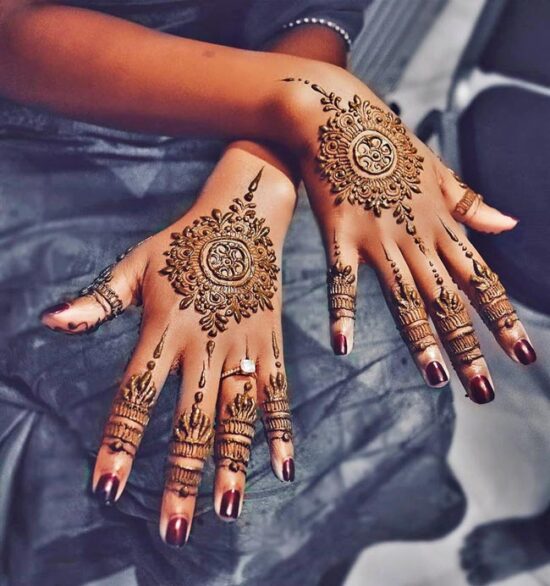 34.
Diamond Mandala Mehndi Design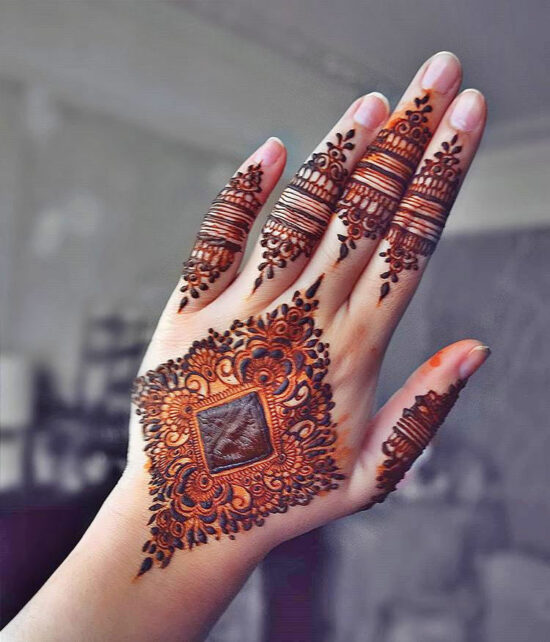 35.
Bridal Full Back Hand Mehndi Design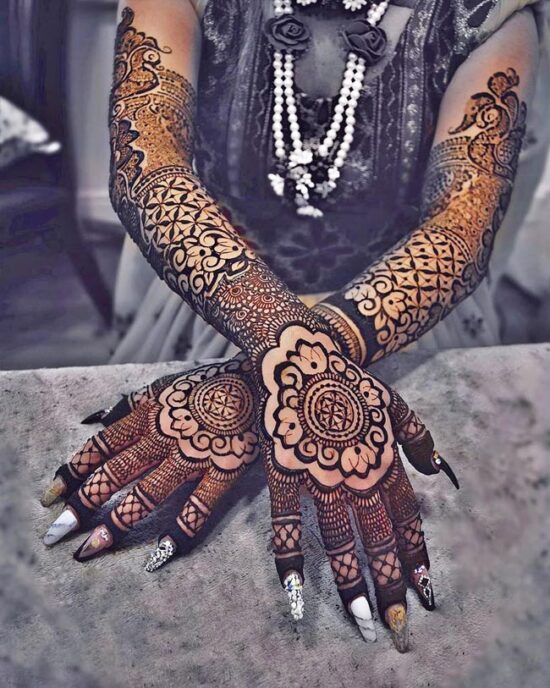 You can change the designs front side to back and back side to front according to your preference. These designs are just an idea.
Hope you all like these mehndi designs. Soon I'll bring more henna designs for you all. If you want me to share any specific mehndi designs then please let me know. If you have any questions or suggestions feel free to write in the comment section below!!