Today I've chosen a product that is important for newborn babies or even toddlers. Every mother is aware of it. Here I'm talking about baby wipes. We all know that babies' skin is soft, delicate, and sensitive. When we choose any product for our baby we should always take care that it should be gentle on their skin. Baby wipes are really important. Every time you change the diaper of your baby you will need wipes to clean. You can use wipes to clean their hands, face, or even if they spill out. In olden times mothers used a wet cloth to clean baby's bottom but sometimes due to sensitive skin it causes rashes which is painful for babies.
I am a mother and In my opinion, wipes are the best product to protect them from rashes and to make them clean. Although my son is now 10+ I still carry wipes in my car or bag whenever we go out. As wipes are helpful and handy to clean hands and face too.
I'm writing this article to list down the 6 best baby wipes with their price available in India. This list can help you to decide which wipes are good and safe for your baby. So without further ado let's check out the features before picking your wipes…
Points to Consider Before Making a Purchase
Every mother is concerned about their little munchkin and wants to give them the best quality products. Either it's about choosing their clothes or their toys we, mothers always choose it very carefully. Mother Sparsh 99% Unscented Pure Water Baby Wipes are made of all-natural Plant-Based Medical Grade Cloth and water. Everyone knows that water is the gentlest element on Earth and these wipes are based on 99% water which is good for our baby. These wipes are specially created for babies with normal to sensitive skin.
These wipes are dermatologically and clinically tested for rashes or any infections. The fabric used for Mother Sparsh Pure Water Baby Wipes is super soft, unscented, and three times thicker than the usual baby wipes. One more quality of these wipes is that they are 100% biodegradable which is good for our mother Earth. Being 100% biodegradable and skin-friendly, they are safe for use on babies from birth itself. As babies have the habit of putting their hands in the mouth, these wipes can clean their hands thoroughly and can remove the dirt naturally without exposing them to any chemicals. Mother Sparsh 99% pure water baby wipes are free from fragrance and are a unique blend of water and organic fiber which makes it safer to use even on the extra sensitive baby skin.
Key Features of Mother Sparsh 99 % Pure Water Baby Wipes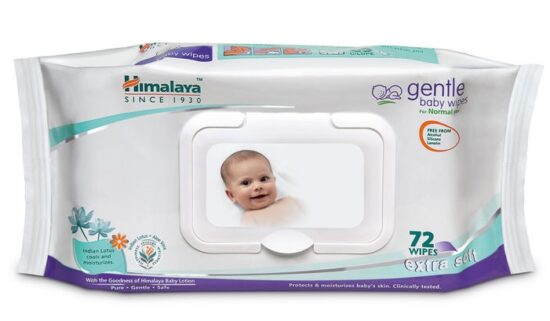 Himalaya Baby Wipes are formulated especially for babies, these wipes do not irritate and are safe to use even for newborn babies. These wipes are hypoallergenic. These gentle baby wipes offer the perfect way to clean your baby after meals, post playtime, or after a diaper change. These baby wipes are thick and soft to avoid wearing. These wipes come in a compact pack of 24 sheets and are easy to be carried in your handbag.
Himalaya baby wipes come in a resealable pack, you can be sure that the freshness and moisture of the wipes remain intact at all times. Himalaya gentle baby wipes are fragrance-free too and provide maximum protection to your little one's soft skin. These baby wipes contain aloe vera extracts that keep your baby's skin soft and supple and Indian lotus extracts that make it smooth. The Himalaya Gentle Baby Wipes are alcohol-free, hypoallergenic, and proven effective clinically
Key Features of Himalaya Gentle Baby Wipes
Pack of 2 = Rs.368/- 
1 Pack of 72pcs = Rs.184/-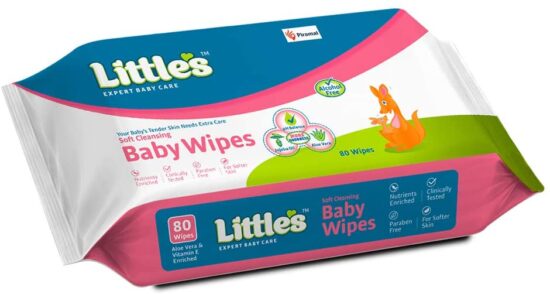 Little's wipes have an equal blend of polyester & viscose which helps to retain moisture for a long and while wiping it prevents tearing. While both polyester & viscose are manmade fibers, they offer a better alternative to cotton. These wipes are thick, soft, and extra moist which makes them ideal during a diaper change and also for cleaning the baby's face and hands during mealtime, playtime, and while traveling. These are helpful for daily use.
Little's baby wipes go through many quality checks and are alcohol-free, paraben-free, dermatologically tested, hypoallergenic ingredients & pH balanced to ensure better safety for your baby. These wipes have a gentle fragrance that freshens up your baby's senses and keeps the baby happy. These wipes are enriched with Jojoba Oil, Vitamin E, and Aloe Vera.
Key Features of Little's Soft Cleansing Baby Wipes
Pack of 80 Sheets = Rs.180/- 
Pack of 30 Sheets = Rs.70/-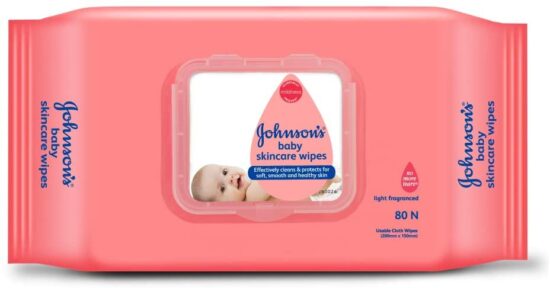 Johnson's baby skincare wipes are specially designed to keep your baby's skin soft and moisturize. These wipes are designed using water-saturated, sponge-like fiber which packs 3 times the weight of moisturizing lotion to the wipes. This pack of Johnson's baby wipes comes with a lid for easy use.
Each of Johnson's products passes a 5 level strict safety process to ensure that every ingredient is safe for use. It helps to protect newborn delicate skin and provide soft and gentle care for our babies
Key Features of Johnson's Baby Skincare Wipes
Pack of 1 (80 Sheets) = Rs.230/- 
Pack of 2 ( 160 sheets) = Rs.430/-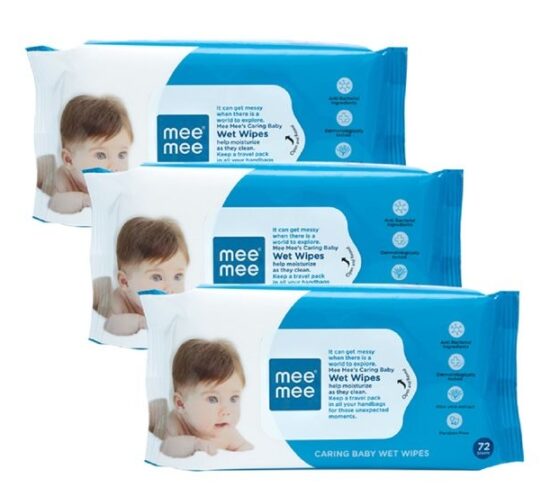 Mee Mee Caring Baby Wet Wipes are made of spun lace and non-woven fabric for quick and convenient cleaning of your babies Pee & Poo. These wipes are gentle for your baby's hands and face too. Mee Mee Caring Baby Wet Wipes has a soothing scent that gives a nice feeling and freshness. These wipes are dermatologically tested with no chemicals to keep your babies away from all kinds of allergies.
The antibacterial properties of these wipes keep your baby sanitized all day. It comes in compact packaging which makes it travel-friendly.
Key Features of Mee Mee Caring Baby Wet Wipes
Pack of 3 = Rs.387/-
Pack of 5 = Rs.495/-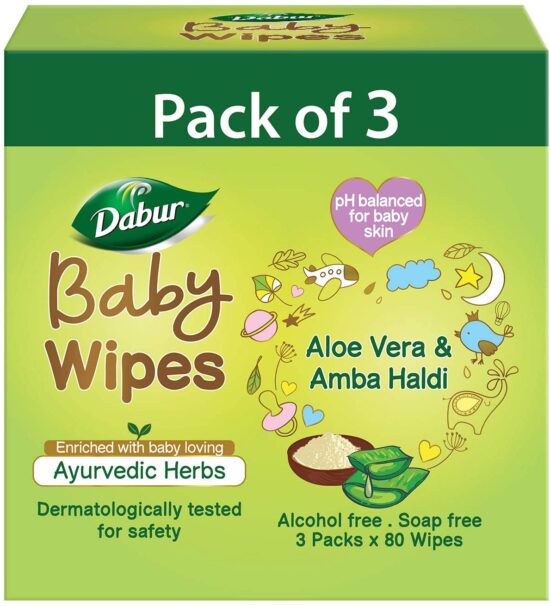 Dabur baby wipes are enriched with baby-loving Ayurvedic herbs like Amba Haldi, Green Tea, Aloe Vera, etc. Green tea is well known powerful antioxidant that is known to protect a baby's skin from diapers rashes and redness. Whereas Amba Haldi and Aloe Vera help to heal, protects, and retain moisture from your baby's skin. These wipes are dermatologically tested, alcohol and soap-free which is good for a baby's soft and sensitive skin.
Key Features of Dabur Baby Wipes
Pack of 3 (80 wipes each) = Rs.540/-
Pack of 6 (80 wipes each) = Rs.1080/-
Although every wipe works best and I've created this list according to my opinions. In my list, I've kept Mother Sparsh 99% Pure Water Baby Wipes in the first position because these wipes are Unscented and 99% water. As it's always recommended to use cotton and water for cleaning baby's soft and sensitive skin but every time, everywhere we can't arrange it so these wipes are the best alternate for cotton and water. Secondly, these wipes are 100% biodegradable which is a good thing to save our planet.
All the content in this post is taken from their respective websites, amazon and nykaa.