Hello Beauties!!!
Nail Art is really popular these days. Fresh and trendy fingernails catches ones eye. Here I've taken 10 Beautiful Marble Nail Design Ideas. The good thing about marbled nails is that you don't had to worry about the perfection, specific lines, swirls or the filthy sprinkle of gold glitter. You can easily try the look from the comfort of your home with a base coat, an accent color, some polish remover, and a striping brush.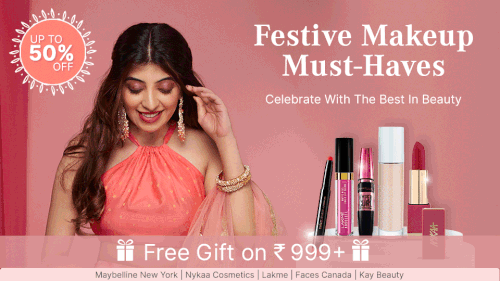 Let's Scroll through to check the beautiful marble finish nail art design ideas and also let me know in the comment section below which one you like most…
Matte & Marble Design:
Beautiful nail design with marble and single tone matte finish. The golden studs are giving them a perfect look. It's a great use of contrastic colors pink and black. A little golden swrill on marble finish is giving it a perfect glam look.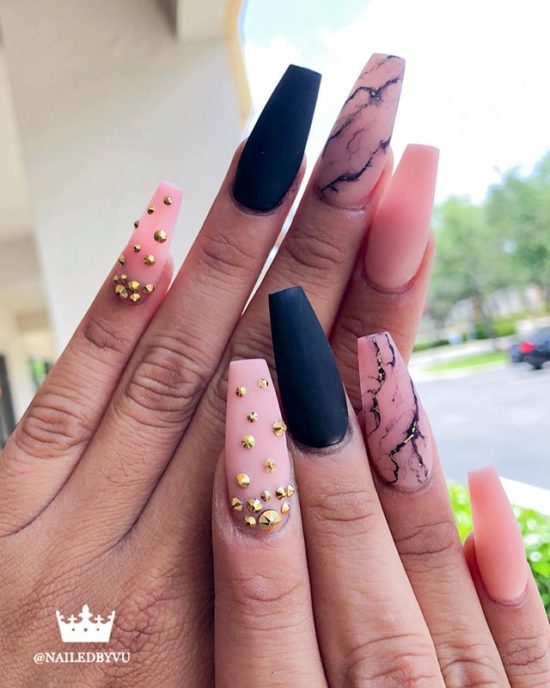 Teal & Black with Water Color Marbles:
If you like darker shades, try this water color marble nail design with a black and teal nail color and rest you are free to use your creativity. This nailart design looks amazing and goes well with similar color dress.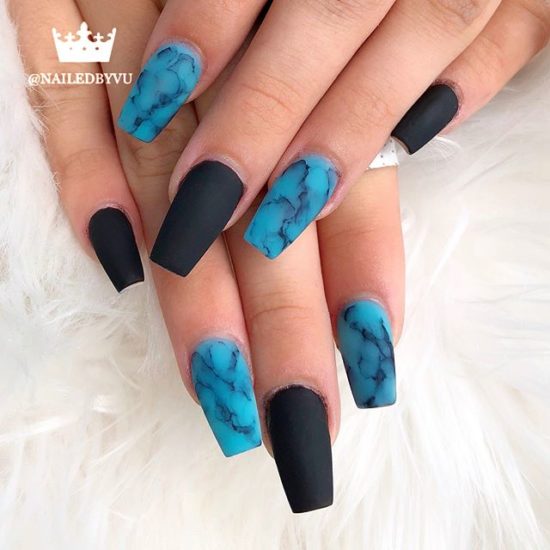 Shades Of Chocolate:
I think every girl loves chocolate. Nothing is as alluring as a piece of chocolate and this nail art is giving me the same feeling. The used colors are very impressive and attractive.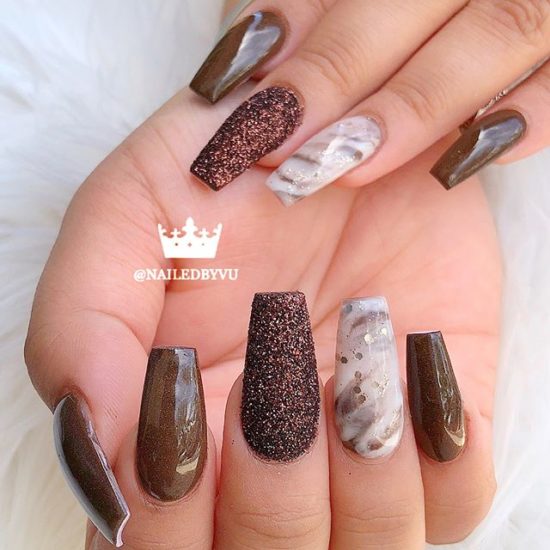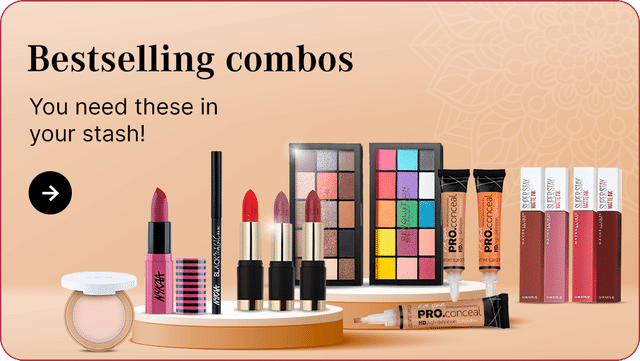 Nude Shade Nailart:
Beautiful nail art design with minimal marble and glossy finish in the shades of nude brown and off white. This can go with any dress.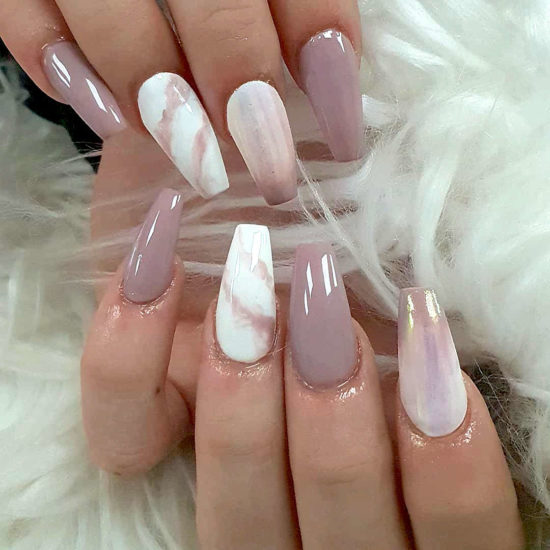 Neutral Grey Marble Effect:
It's a nice blue – white color shade with the grey color marble effect. Stones are giving an extra look to this nail art.
Nails in Black:
I usually don't prefer black nail color on nails but this nail art drwas my attention. It's really elegant way to use black on nails. Golden stripe design is giving extra look to it.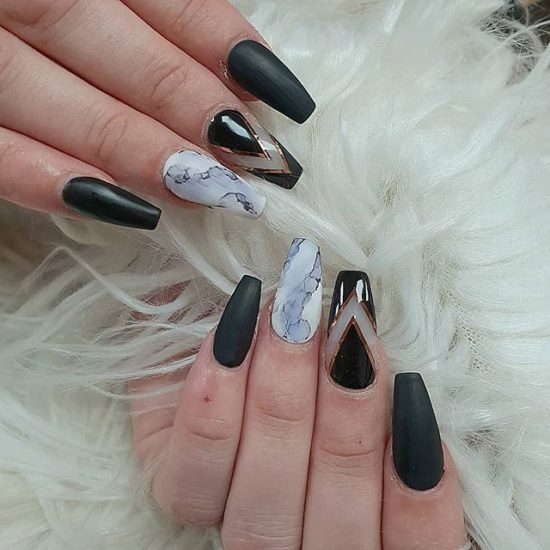 Glittery Pink:
You can wear this nail design on any festive season. You can use pink color without any doubt. It looks stunning. This nailart has beautiful and glossy finsh. Gliiter is giving it an extra finish.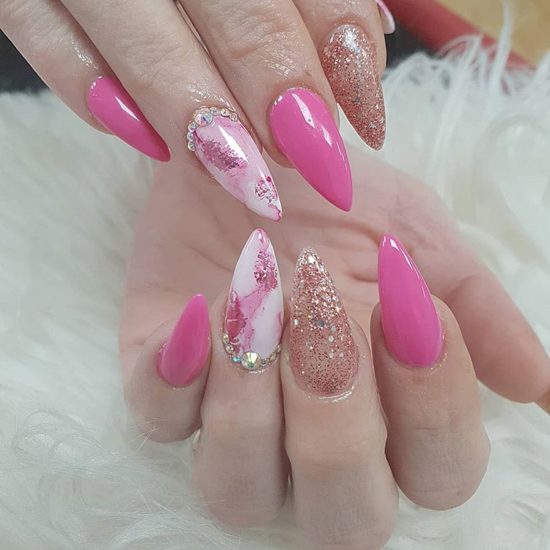 Love of Pink:
It's beautiful extra glossy marble finish. It's a very good blend of nude pink with contrastic white/black marble look. Studs are giving it a cool look. I really love this nail art.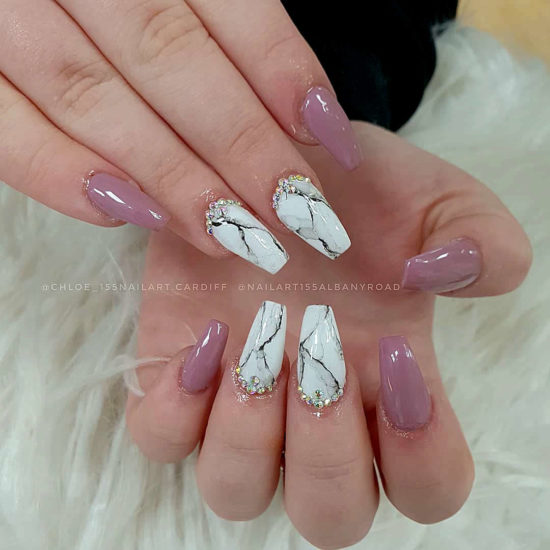 Fell in Love:
This nail art design is really pretty. You can try this type of nail art casually. The glitter and stones are giving it a simple as well as glam look. Light pink shade with white-black marble effect looks awsome.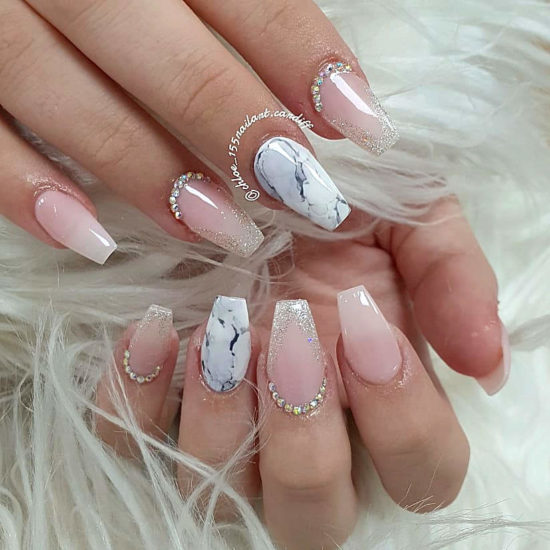 White Marbles:
It's a classy as well as glossy nailart design with soft veins and swirls running over the top.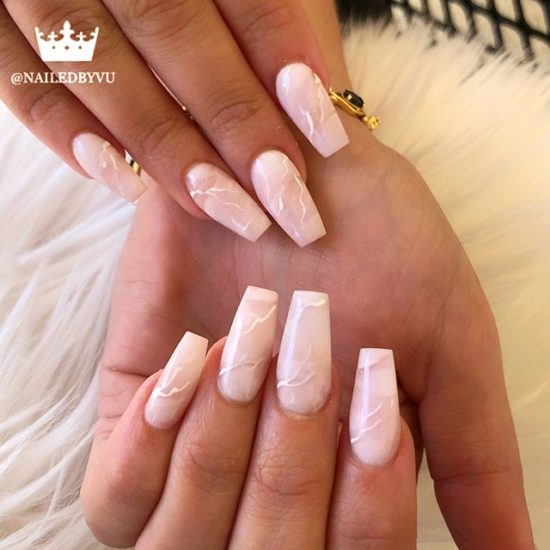 Hope you all like these marble finish nail art designs. Soon I'll bring more nail art designs with different styles. If you have any questions or suggestions let me know in the comment section below!!